Tigers tab TCU assistant as defensive coordinator and strength coach
June 1, 2005
June 1, 2005, Greencastle, Ind.
- DePauw University Director of Athletics Page Cotton has announced the hiring of Kyle Nystrom as the football team's defensive coordinator and the University's strength coach.
"Kyle brings a tremendous amount of experience and coaching ability to our program and we're excited to have him on staff," DePauw head coach Tim Rogers said.
Nystrom, the linebackers coach at Texas Christian University since 2002, brings over 16 years of Division I collegiate coaching experience to the Tigers. In his first season with TCU, Nystrom coached all-America linebacker and Conference USA Defensive Player of the Year LaMarcus McDonald. The 2002 Horned Frogs led all of Division I-A in total defense by allowing just 240 total yards per game and in rushing defense with just 65 yards per contest.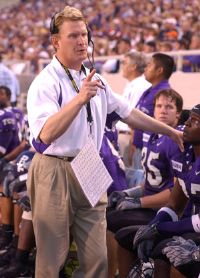 Prior to coming to TCU, Nystrom spent the previous 13 seasons at Western Michigan, where he was the longest-tenured assistant coach on Gary Darnell's staff. He spent the final five seasons coaching the inside linebackers and also served as the special teams coordinator each of his final two years with the Broncos. Nystrom joined the Western Michigan staff in 1989 and served three years as a part-time aide and graduate assistant before being elevated to a full-time position as outside linebackers coach in 1992. A 1988 Michigan State University graduate, Nystrom majored in criminal justice and political science. He served five years on the Spartan staff as a student assistant coach. Upon graduation, he spent one year as a graduate assistant at Northern Michigan. A native of Fargo, N.D., Kyle is the son of 1955 Michigan State all-American guard Carl "Buck" Nystrom, recognized as one of the nation's best line coaches. DePauw returns 16 starters from a team that finished 8-2 in 2004. The Tigers open the season on September 3 at Blackstock Stadium against Wesley College.
Back