Gates Scholarship Allows Oregon HS Student to Attend DePauw, "Her Dream School"
June 5, 2005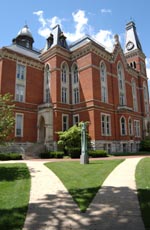 June 5, 2005, Greencastle, Ind. - Hoa Nguyen, a senior at Portland, Oregon's Madison High School, is the recipient of a Gates Millennium Scholarship. A story in the Oregonian notes that Nguyen emigrated from Vietnam. "For Hoa Nguyen, winning means she can attend DePauw University in Indiana, her dream school." She intends to major in science, "with an eye to possible medical careers," Betsy Hammond writes.
"They were picked for their combination of academic achievement, leadership skills and community service. All are low-income minority students. The Bill & Melinda Gates Foundation will pay all their unmet costs of attending college, ensuring they don't have to work or take out loans to reach their college dreams. It is part of the Gates' $1 billion, 10-year effort aimed at giving more African-American, Asian American, Latino and Native American students the chance to attend college, earn college degrees and take leadership positions in society."
In total, 12 Oregon high school students and approximately
1,000 across the nation received Gates Scholarships this year. "So far, 88 percent of the Gates scholars have made it to their sophomore year of college, and 58 percent have earned a college degree within four years, officials say."
Read more at the newspaper's Web site.
Back