Madeleine Eagon Named VP for Strategic Communication and Financial Aid; Stefanie Niles Promoted to Dean of Admission
June 6, 2005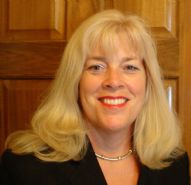 June 6, 2005, Greencastle, Ind. - Madeleine R. Eagon (seen at left), vice president for admission and financial aid at DePauw University, has been appointed to the new position of vice president for strategic communication and financial aid. In her new role, Eagon will coordinate communication efforts, both internal and external, that illuminate DePauw's academic excellence.
Stefanie Niles (seen below right), director of admission, now becomes dean of admission for the University. She assumes all responsibility for developing and implementing a strategic admission plan to meet University academic and diversity goals. Financial aid to worthy and needy students
will be budgeted and executed between Eagon and Niles.
"Today, more people than ever before view DePauw University as an institution of national significance," says DePauw President Robert G. Bottoms. "Madeleine Eagon's task is to further enhance the University's reputation and name recognition. We've come a long way in recent years by adding to our faculty, expanding academic majors, building or renovating academic buildings and residence halls, and improving selectivity and the academic profile of students choosing DePauw. DePauw is known to more people today than at any point in its history. Our goal is to continue to build awareness of DePauw as an outstanding academic institution among our many publics; Madeleine's work will focus upon this."
"There are many voices competing for attention in the educational marketplace, but few have the long reputation of academic excellence, student-faculty interaction and collaboration, and innovative programs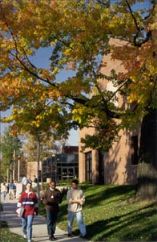 that DePauw can boast of," adds James B. Stewart '73, best-selling author and chair of DePauw's Board of Trustees. "As we continue to work toward attracting even better students and faculty members, communicating our messages in a timely and consistent manner becomes even more important. I'm excited that Madeleine, who has done so much for DePauw, is taking on this new challenge."
"This is a remarkable opportunity, one that allows me to build upon the communication skills we utilize with prospective students and parents," says Eagon. "It is an exciting challenge, indeed, to be able to expand this communication role to encompass all members of the DePauw family and build external audiences.
In her new position, Eagon will provide oversight and guidance for the University's communication efforts -- internal and external. Among other things, she will ensure that DePauw delivers consistent messages and speaks with "one voice."
"I look forward to consulting with many individuals and groups about DePauw's
strengths and how to best communicate those broadly. We want to build coalitions and a sense of shared enterprise as we move forward" says Eagon.
In her new role, Stefanie Niles will now oversee DePauw's efforts to recruit and admit new students to the University. "I am eager to assume the new responsibilities of the dean of admission position and I am grateful to have the opportunity to take over the leadership role in the admission operation from Madeleine Eagon, who has been a terrific mentor and supporter of me and my work," Niles states. "I look forward to building upon the successes of a strong admission team and continuing to serve DePauw by leading the efforts to attract a bright, talented, and diverse student body."
Madeleine Eagon came to DePauw in June 1996. She previously served as a consultant to The College Board (an organization she continues to serve as a board member), and spent 10 years as director of admission at Whitman College, a liberal arts college in Walla Walla, Washington. Prior to becoming director of admission, she served Whitman as assistant director of admission and then associate director of

admission from 1978 to 1985.
Stefanie Niles has served DePauw since 1997, as assistant, associate, and senior associate director of admission. In 2001, she was appointed director of admission. Niles previously served as a hall director at the University of Tennessee and assistant coordinator of the Ashton Residence Center at Indiana University in Bloomington. She also was acting director of IU's Student Alumni Association.
Back