Ten Years Later, HS Valedictorian Amy (Ahlemeyer) Broadbridge '99 Reflects on Her Address to Fellow Graduates
June 8, 2005

June 8, 2005, Greencastle, Ind. - Ten years ago, Amy (Ahlemeyer) Broadbridge, valedictorian of her high school class at Indiana's South Vermillion High School, addressed her fellow graduates. "Her plan then was to get a degree in elementary education at DePauw University. And she did just that in 1999," notes the Terre Haute Tribune-Star. "But if Broadbridge had the chance to speak at the 2005 South Vermillion commencement, she'd remind those graduates to be open to unexpected possibilities that crop up as life unfolds."
Mark Bennett writes, "Broadbridge does indeed teach in a substitute role in Bozeman, Montana. But her full-time job is co-director of Camp Deerhorn, a boys summer camp in Rhinelander, Wisconsin. The roster of co-directors includes her husband Patrick Broadbridge ['91], his two brothers and their wives. The Broadbridges have run Camp Deerhorn for three generations. Amy met her future husband "kind of by fate" while working as a swimming instructor at the camp while she was still a student at DePauw. She'd been turned down for an instructor's job at one camp, when Deerhorn answered her application. 'Sure, [that first job rejection] was a blow at the time, but it turned out working for the best,' Amy says. 'But there's no way I could've seen [the future] from there.'"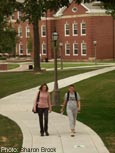 Amy Broadbridge says, if given the chance to address her high school graduating class today, "I think I would say the same things. But I would also say that you can make plans and all that is great, but your life can take a turn you didn't expect, and that might turn out to be better than you planned."
Access the complete article by clicking here.
Back