DePauw Senior is Candidate for Co-Chair of National College Republicans Association
June 10, 2005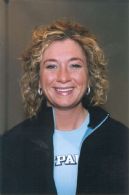 June 10, 2005, Greencastle, Ind. - "Jessica Beeson first ran for election as a third grader," begins a story on the DePauw University senior in Indiana's Kokomo Tribune. "She won that time, to serve as class representative to the student council. She's won other elections since, including being elected student body president at DePauw University, and is now campaigning to be co-chairman of the National College Republicans Association."
Danielle Rush writes, "The co-chairman helps run the national organization, traveling and speaking at colleges across the country." The election is set for June 24. Beeson is "running on a ticket with Paul Gourley of South Carolina, against a ticket headed by Michael Davidson of California."

The article notes, "Beeson's own recent experience includes a semester as an intern for presidential adviser Karl Rove in the White House. 'It was probably the best experience I've had in my life. I've grown so much and I've learned about myself, about politics.' She got to meet President George W. Bush while she was there. 'It was incredible. He is a very intelligent man and a very good leader for our country.'"
Read more about Jessica Beeson in this previous story.
Back