Alumni Gather to Celebrate Friendship and the "Importance of Knowledge, Excitement of Ideas and Capacity for Learning" DePauw Inspires
June 11, 2005
Also: 2005 Alumni Reunion Weekend Photo Gallery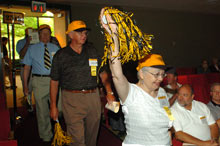 June 11, 2005, Greencastle, Ind. - "In reflecting on the meaning of the passing years and on the opportunities they presented us, I hope we can more clearly recognize the contributions of this place and the importance of knowledge, the excitement of ideas, and the capacity for learning it shared with us," Robert H. Giles told fellow members of DePauw University's Class of 1955 at this morning's Alumni Reunion Weekend Celebration in Kresge Auditorium. Giles, curator of the Nieman Foundation for Journalism at Harvard University, previously served as editor and publisher of the Detroit News.
"At almost every commencement exercise over the centuries, graduates are urged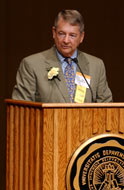 to go off and make the world a better place, and the DePauw Class of 1955 heard that message," Giles (seen at right) continued. "But it's a very big world, you know. And making change for the better is done in small, incremental ways: a step forward here, a step back there, another step forward. Our world is a better place than it was 50 years ago, and we have contributed through service to society in countless ways on our own terms. We are no longer able to look ahead at life and see limitless possibilities as perhaps we could in June 1955. But we can continue to enjoy the lessons of our DePauw experience, continue to learn, continue to take life with curiosity and wonderment, continue to serve society, and continue to love and care for one another.

[Download Audio: "Complete Speech of Robert H. Giles '55" - 9365kb]

[Download Video: "Video of Class of '55 Unveiling Gift Total" - 869kb] The golden anniversary class announced cumulative gifts to DePauw (including Annual Fund and deferred commitments) of $4,797,657.

[Download Audio: "Making Dreams Reality" - 141kb] "We spend a lot of time at DePauw dreaming dreams," President Robert G. Bottoms told the Class of 1955 as he accepted their generous gift and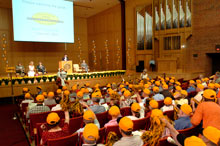 offered the University's thanks. "It's only through the support of your class and other classes that some of our dreams become reality."
The Class of 1955 also provided the audience an opportunity to sing-along with a song that played off their class theme: "Those Were the Days/These Are the Days" [

[Download Audio: "Song Clip #1" - 394kb]

[Download Audio: "Song Clip #2" - 414kb].
"I have seen DePauw as a student, as an alum, and now as a matchmaker, recommending DePauw as an outstanding option to high school students," 1980 DePauw graduate Sue E. Stemen told her classmates in her silver anniversary reunion address. Stemen, associate director of college guidance and coordinator of career counseling at Park Tudor School in Indianapolis and former corporate lawyer,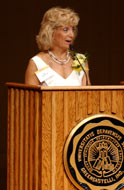 continued, "We all have memories of DePauw -- from the Spinners concert in Bowman Gym to the Billy Joel concert, unforgettable boulder runs, Little 500, rush, Winter Term, finals, dances, Marvin's' garlic cheeseburgers and burritos, Old Gold, band, vocal and orchestra concerts, theatre performances, and classes... Although we started on common ground, and pursued various journeys to success, we have convened today to share our rich life experiences." Stemen ended her speech with a humorous poem, which concluded: "As we shared a few memories and retold some class jokes, we were 18 in spirit though we looked like our folks. We turned up the music and dimmed down the light, rolled back the years and were young for the night."

[Download Audio: "Complete Speech of Sue E. Stemen '80" - 3256kb]
Dr. Bottoms noted that the campus has changed quite a bit since the golden and silver anniversary classes were students at DePauw; in fact, the last five to ten years have brought many new buildings and renovation projects. He urged Alumni Reunion Weekend guests to look around, but to also be mindful of what they
can't see.

[Download Audio: "Building on Traditions" - 424kb] "You can't see on a weekend visit how important it has been in the last five years to expand our faculty from 150 to 240. You can't see how important it is to have those small classes that you'll be sending your students to. You can't see how instruction and interaction has changed since you were students here," the president added, as he again thanked his audience for their devotion and dedication to DePauw.
Bottoms also told alumni of his plans to develop a center for the study and discussion of ethics on the DePauw campus, saying it will reinforce three principles that have guided the
University for generations, and are more important today than ever before.

[Download Audio: "Ethics Institute" - 537kb] "We believe education is about knowledge, and that means educated people tell the truth. Secondly, we believe injustice is intolerable for educated people. And thirdly, we believe good people have to have the courage to be counted on. And so with these ideals in mind we will begin discussions this year on the development of an institute for ethics, which we'll have in place for your next anniversary reunions."
To check the Alumni Reunion Weekend 2005 schedule of events, click here.
Back