Public Education -- America's "Largest Faith-Based Initiative" -- Needs Assists, Prof. Eric Silverman Writes
June 12, 2005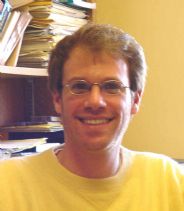 June 12, 2005, Greencastle, Ind. - "What's the largest faith-based initiative in America?," asks Eric K. Silverman, associate professor of sociology and anthropology at DePauw University, in today's Herald-Times of Bloomington, Indiana. "Raise your hand if you answered 'public education.' Public schools survive on the simple faith that moms and dads will ceaselessly donate time and money to ensure that children receive crucial services. According to the national organization PTO Today, parent-teacher groups raise a billion-and-a-half dollars annually for public education. The deepness of parental pockets is a leading economic indicator of the shallow commitments made by politicians to schools and children."
Dr. Silverman, who holds the Edward Myers Dolan Professorship and serves as director of Jewish Studies at DePauw, continues: "Parents at my son's elementary school in Bloomington organize reading programs, writing labs, computer support and peer mediation. We volunteer in the library and provide classroom snacks. Above all else, parents fundraise."
He states, "What's needed is a new educational initiative, not the No Parent Left Behind in Fundraising Act, one that takes root at the local level and seeks to transform parental generosity into political will. Only when parents willingly add to their already considerable burdens and assume a more vocal role in shaping public policy can we truly leave no child behind from a decent education." Silverman believes "parents must demand greater investment by elected officials in public schooling," prod administrators to work harder to generate community and private sector support for schools, and "annually evaluate the quality and quantity of local, state, and federal support of public education."
The professor concludes, "Politicians should receive annual report cards that clearly indicate what programs and initiatives they have, and have not, supported. Treat elected officials like you treat your kids: Reward initiative; censure laziness. For the past year, two students each week in my
son's second-grade class receive a 'personal best' ribbon and an invitation to lunch with their teacher. I think it's time parents demanded the same ethic and integrity from school administrators and elected officials. I might even offer you lunch. How about a bagel bar?"
Access the complete column by clicking here.
Source: Bloomington (Ind.) Herald-Times
Back