University of Rousse in Bulgaria Honors DePauw Prof. Doug Harms
June 18, 2005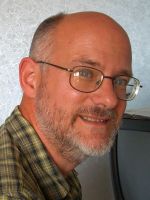 June 18, 2005, Greencastle, Ind. - The University of Rousse in Bulgaria has named Douglas E. Harms, professor of computer science at DePauw University, an honorary member of its department of computing. A citation from Angel Smrikarov, associate professor and head of the department, notes that Harms is being recognized "for his merits to the development of the teaching and research activities and the international relations of the department."
The recipient of a Fulbright Award for the 2004-05 academic year, Dr. Harms spent the 2004-05 academic year teaching several undergraduate and graduate courses in the department of computing at the University of Rousse. The professor also conducted research on the history of computing in Bulgaria, took part in seminars, and participated in the life of the University's academic
community. He was accompanied by his wife Mary Beth and their three youngest children: Abigail (2nd grade), Isaac (3rd grade), and Alisha (10th grade), who attended Bulgarian public schools.
"During the year I helped teach a wide range of computer science courses at both the undergraduate and graduate levels," Doug Harms says. "I also presented a few lectures in anglophone studies courses, gave several presentations to local high school students, and made presentations at a handful of computer science conferences held in Bulgaria."
He adds, "I was the first Fulbright scholar at the University of Rousse and one of only a handful of international faculty at the university this year. I was flattered when Dr. Smrikarov, the department chair, informed me that the faculty voted to make me an honorary member of the department. As far as I know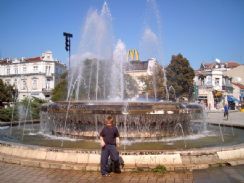 this is the first time the department has elected an honorary member and I know they did not make this decision lightly. I am humbled that my colleagues would bestow such an honor on me."
Dr. Harms was one of approximately 800 U.S. faculty and professionals who traveled abroad to some 140 countries for the 2004-05 academic year through the Fulbright Scholar Program. Established in 1946 under legislation introduced by the late Senator J. William Fulbright of Arkansas, the program's purpose is to build mutual understanding between the people of the United States and other countries. The Council for International Exchange of Scholars (CIES), under a cooperative agreement with the United States Department of State, administers the Fulbright Scholar Program for faculty and professionals. Read more about the program, and Harms' selection, in this previous story.

The professor has established a Web page that includes photos of his Bulgarian experience. Visit it by clicking here.
Fulbright Scholar alumni include Nobel Prize-winning economist Milton Friedman, Intel Corporation CEO Craig Barrett, Pulitzer Prize-winning poet Rita Dove, Alan Lesher, CEO of the American Association for the Advancement of Science, and Nafhat N. Nasr, professor of political science at DePauw University, who spent the 2002-03 academic year at the University of Balamand in Lebanon (read more here).
Back