Restore the Draft, Suggests Prof. Ken Bode in US News & World Report
June 14, 2005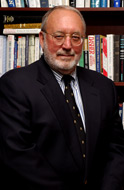 June 14, 2005, Greencastle, Ind. - "In 'The Media In Trouble' [May 30], John Leo laments that so few of today's journalists have done military service, contributing to an antimilitary bias in reporting about the armed forces," Ken Bode writes in a letter published in the June 20 issue of U.S. News & World Report. "He also laments that journalists are hired directly out of college, bringing their elitist liberal views to the newsroom. Journalism has grown ever more technical and specialized, and no one is going to roll back the need for college-educated reporters," asserts Bode, who, as the magazine points out, is the Pulliam Professor of Journalism at DePauw University.
The letter continues, "However, there is a solution to the lack of military service: Restore the draft for men and women, with no college deferments. Give everyone, journalists included, a full stake in whatever military adventures the United States gets involved in."
Dr. Bode's letter appears on page six of the magazine, and can be accessed online by clicking here.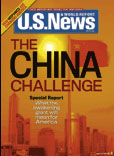 Ken Bode, Eugene S. Pulliam Distinguished Visiting Professor of Journalism at DePauw University, was inducted into the Indiana Journalism Hall of Fame in April. He writes regular op-ed columns for the Indianapolis Star, the most recent of which can be accessed here, here, here, here, here, here, here, here, here, here, and here.
Bode, a veteran journalist who worked for NBC and CNN, recently appeared on MSNBC's Hardball with Chris Matthews. A story that includes video clips can be accessed here.
Back