Adam Runyan '05 Off to Entrepreneurial Jump Start; Opens Store a Day After Graduation
June 16, 2005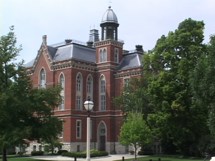 June 16, 2005, Greencastle, Ind. - "Unlike many recent college graduates, Adam Runyan isn't hanging out on mom and dad's couch or lying on a beach somewhere," begins a Kentucky Post article on the 2005 DePauw University graduate. "The 21-year-old Fort Thomas native is putting in 10-hour days at Second Story, a new skateboard and music shop he opened on South Fort Thomas Avenue in Fort Thomas the day after he graduated from DePauw University in Indiana."
Stephenie Steitzer writes that Runyan "managed a similar store during his senior year in Greencastle, Ind. He and his boss often joked about opening anotherstore together," and that's exactly what they've done. "Runyan said he spent the weeks preceding graduation, including the week of final exams, ordering
merchandise and setting up shop. He opened Second Story the day after graduation in May and has since spent 60 hours a week running it." The store sells compact discs, DVDs and skateboard equipment.
Read the complete text at the newspaper's Web site.
Back