Prof. Ken Bode Writes from the 'Mississippi Burning' Trial, Where Testimony Continues
June 17, 2005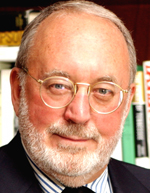 June 17, 2005, Greencastle, Ind. - "Each morning, as Edgar Ray Killen arrives at the Neshoba County courthouse, he is greeted by J.J. Harper whose business card identifies him as the Imperial Wizard of the American White Knights of the Ku Klux Klan," Ken Bode writes from Philadelphia, Mississippi in today's Indianapolis Star. "Harper has come from Cordele, Ga., he says, to support Killen, 80, a sawmill operator and part-time preacher who faces three counts of murder for the 1964 slayings of civil rights workers Andrew Goodman, James Chaney and Michael Schwerner. Killen, who publicly insists he has never been part of the Klan, usually gives Harper an indifferent grip as his wheelchair is pushed up the handicap ramp to the courthouse."
Bode, Eugene S. Pulliam Distinguished Visiting Professor of Journalism at DePauw University, previewed the so-called "Mississippi Burning" trial in last week's Star. Today, he reports on the jury selection process and the opening of the trial. Killen stood trial for the killings in 1967, but the proceedings ended with a hung jury.
"Hollow-cheeked and bald, Killen looks every bit his age, but as he listened to the attorney general of Mississippi lay out the case against him, he took notes and conferred with his lawyers.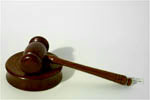 The prosecution says it will prove that Killen masterminded the murders; arranged to have the three boys arrested and detained while he assembled a lynch mob of fellow Klansmen; orchestrated their release and recapture; arranged for them to be murdered and buried in an earthen dam near Philadelphia; and found a bulldozer operator to put them under 15 feet of red clay around midnight on June 21, 1964. It charges that Killen was the top recruiter for the Klan in at least two Mississippi counties. When the mob was assembled, Killen explained that Imperial Wizard Sam Bowers had approved the 'elimination' of the boys. To cement his alibi, before the actual killings, Killen left for a funeral home where he could be seen in public."
The former senior political analyst for CNN, Dr. Bode writes, "In opening arguments, Killen's lawyers made an interesting concession, admitting he was part of the Klan, but merely a bystander and not the 'godfather' of the plot. The defense strategy is to aim for a hung jury, to find one or more among the teachers, bus driver, poultry workers, chicken farmer and social worker on this jury who can be convinced that after 40-years justice is impossible, that the evidence against Killen is circumstantial and anecdotal, that those who pulled the trigger should be on trial, not someone who wasn't even at the scene of the crime.

Or perhaps that they just cannot vote to convict a Baptist preacher of murder. It has happened before."
Access the complete column at College News.org.
Ken Bode's most recent op-eds can be accessed here, here, here, here, here, here, here, here, here, here, and here. He also wrote a letter published in this week's U.S. News & World Report arguing why the military draft should be restored.
Source: Indianapolis Star
Back