Newspaper Profiles Prof. Emeritus James Mannon and His New Book, Epilogue
June 19, 2005
June 19, 2005, Greencastle, Ind. - "What he describes as some of the saddest days of his life, are also the days [James] Mannon decided to turn to writing as a way of coping," states an article in Greencastle's Banner-Graphic. Mannon, professor emeritus of sociology at DePauw University, is the author of Epilogue: Poems of Love and Loss, which is a tribute to his wife of 18 years, Susan S. Stewart. "He said Sue had always been a big supporter of his writing, so after she died, he wanted to gear his negative energy into something positive and productive."
Karen Brehmer notes that Dr. Mannon "began writing poems of hurt, love, anger, and hope, describing incidents and conversations he and his wife experienced in their last few months together. 'It gave me a way to think of Sue in a productive way,' he said. 'If I just sat there, thinking of all that happened, I would get hopelessly sad. But writing made it productive.'"
The professor is donating all proceeds from the book to Putnam County Family Support Services, which his late wife served as a director. "A little over a year after his wife's death, Mannon said he's 'mostly better.' Since Epilogue was published, he has been writing a book called, All Will Be Well: A Care Giver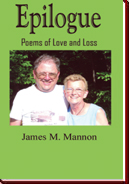 Remembers. "It is the story of his wife's digression in her last four months, through the eyes of him, as her care giver. Mannon is working with a company in New Jersey, trying to get an agent to find a good publisher for the piece."
Access the complete article at the newspaper's Web site.
Read more about Jim Mannon's book in this previous story.
Back