Award-Winning Author Richard Peck '56 Returns to Illinois Village for 150th Anniversary Celebration
June 20, 2005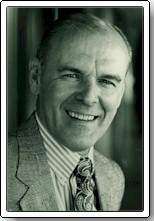 June 20, 2005, Greencastle, Ind. - The village of Cerro Gordo, Illinois celebrated its 150th birthday over the weekend, and "many came to see Richard Peck, an award-winning children's author and Decatur native," reports the Herald & Review of Decatur, Illinois. Peck, a 1956 graduate of DePauw, "came from New York City ... 'I had two books that might be about Cerro Gordo,' Peck said with a smile. 'But I'm not saying.'"
Mike Frazier writes, "Fans snaked through Hope Welty Public Library for several hours to have books signed by Peck. And they say they recognize the rural inspiration for his books A Long Way From Chicago and A Year Down Yonder -- even if Cerro Gordo is not mentioned by name. The books draw from his childhood memories with his grandparents around Cerro Gordo, they say. 'He's amazing,' said 11-year-old Emily Sawyer as she waited to have her books signed. 'There's comedy and adventure together. It all ties into Cerro Gordo perfectly.' Emily was joined in line by fellow Peck fan Sophie Ozier, 11. The girls agreed
they enjoyed several attractions at the celebration -- a dunk booth, fireworks and live music, to name a few. But meeting Peck was a highlight. 'I want to be an author when I grow up,' Emily said. 'I love to think up stories and write them down.'"
Read the complete article at the newspaper's Web site.
Recently, readers of Disney Adventures magazine selected Richard Peck's The Teacher's Funeral: A Comedy in Three Parts as 2004's best historical fiction book for children. Peck, who has been called "America's best living author for young adults," was the 2001 recipient of the Newbery Medal (the top prize for children's literature given by the American Library Association).
Learn more in this previous story.
Back