Prof. Ken Bode Reviews New Book on Clinton Presidency in Boston Globe
June 19, 2005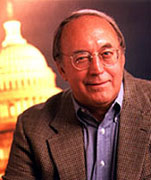 June 19, 2005, Greencastle, Ind. - "Of all the Clinton books to date, this is the best of breed," opines Ken Bode of The Survivor: Bill Clinton in the White House. The new book by John F. Harris is reviewed by Bode, Eugene S. Pulliam Distinguished Visiting Professor of Journalism at DePauw University, in today's Boston Globe.
"Harris was assigned to the White House by the Washington Post for most of President Clinton's eight years in the Oval Office," Dr. Bode writes. "He traveled the world with the 42nd president, observing the high times and the low. Harris has notebooks full of stories and sources, good ones, which he emptied into this book... Harris writes a chronological narrative, essentially beginning with Clinton's election in 1992. It is not a psychological biography, not seeking root causes of the scattershot nature of the Clinton personality and presidency in his family, childhood, or even his lengthy governorship of Arkansas. The Clinton we find in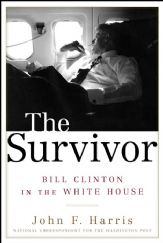 these pages is the man who arrived in Washington formed by those influences, but eager to use the power of the presidency to remodel the Democratic Party, freeing it of its moorings to the special interests of the old Roosevelt coalition."
The professor states, "If you want to get an idea what Senator Hillary Rodham Clinton might be like as president, read this book," noting that "Hillary dreamed of a deputy presidency, Harris writes, insisted on weekly meetings with the chief of staff, and steadfastly resisted the release of documents, which prolonged the Whitewater investigation."
In concluding his lengthy analysis of the new book, Bode states, "Harris says that the Clinton presidency was largely a defensive project, with much of his time spent recovering from self-inflicted wounds. But he left office popular and remains so today. Part of Bill Clinton's legacy will be that he proved that the American people have a solid sense of relevance, that they sort the political wheat from the chaff. Citizens may not have admired his personal behavior or morality -- and the polls from the time indicate they did not. But constant majorities of Americans approved of the prosperity his policies produced and never favored his removal from office. As columnist Mary McGrory once said, 'It's the Dow
Jones, not Paula Jones, that determines his standing.'"
Access the complete review at the Globe's Web site.
Ken Bode writes regular op-eds for the Indianapolis Star. His most recent contribution, published Friday, analyzes the trial of Edgar Ray Killen, which Bode is covering in Philadelphia, Mississippi. Read more by clicking here. He also contributed to a 2004 book, The Clinton Riddle. Read more in this previous story.
Back