Big Top Cartoonist Rob Harrell '91 and His New Book Featured in Newspaper
June 22, 2005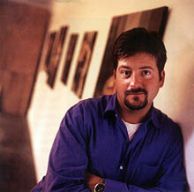 June 22, 2005, Greencastle, Ind. - The new issue of the Indianapolis alternative newsweekly NUVO profiles "cartoonist and fine artist Rob Harrell," a 1991 graduate of DePauw University. "The first collection of his hilarious comic strip, Big Top, is available in bookstores, joining the ranks of classics like Peanuts, Bloom County and The Far Side, writes Tony Adams. "Big Tophas also recently been picked up for syndication in Philadelphia, Boston and Melbourne, Australia."
The text notes, "The DePauw University and Ringling School of Art and Design in Sarasota, Fla., graduate started Big Top in 2001 and was picked up by Universal Press Syndicate in April of 2002. Ever since then the antics of 11-year-old Pete, Dusty the poodle, Wink the bear, Manfred the monkey and many more have made Big Top an anomaly among most of the other comics in the paper -- Big Top is actually funny!"
Access the story, which includes an interview with Harrell, at the newspaper's Web site. In December 2003, Rob Harrell appeared on NBC's Today Show with Katie Couric. Read more in this previous story. Visit Harrell's personal Web site here.
Back