9/11 Commission Vice Chair Lee Hamilton '52 Receives National Jefferson Award for Public Service
June 24, 2005
June 24, 2005, Greencastle, Ind. - The two leaders of the 9/11 Commission -- Lee Hamilton, a 1952 graduate of DePauw University, and Thomas Kean, the former governor of New Jersey -- are recipients of national Jefferson Awards. The two men were honored Tuesday night in Washington, D.C. "Jefferson Awards are the 'Nobel Prize for public service,'" notes a story in Indiana's Evansville Courier & Press.
The Awards were established in 1972 to encourage and honor individuals for their achievements and contributions through public and community service. By honoring the Jefferson Award recipients, it is the goal of the American Institute for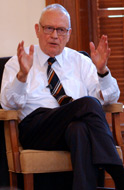 Public Service to inspire others to become involved in community and public service.
Access the article by clicking here.
Lee Hamilton, a Democrat who served 34 years in the United States House of Representatives and is now president and director of the Woodrow Wilson International Center for Scholars, returned to DePauw on September 17, 2004 for "DePauw Discourse 2004: Issues for America," a three-day election issue forum hosted by the Washington C. DePauw Society. A summary of his comments, including video and audio clips, can be found by clicking here.
Back