Thomas Gibson '64 Elected to Board of DealerTrack Holdings
June 25, 2005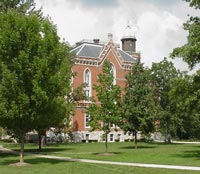 June 25, 2005, Greencastle, Ind. - Thomas R. Gibson, chairman emeritus of Asbury Automotive Group, Inc. and IKON Office Systems and a 1964 graduate of DePauw University, has been elected to the board of directors of DealerTrack Holdings, Inc. The company is a leading provider of on-demand software solutions for the automotive retail industry in the United States.
"We are very pleased to welcome Tom Gibson to the DealerTrack board of directors," says Mark O'Neil, DealerTrack's chairman of the board and chief executive officer. "Tom's experience with the domestic OEMs and one of the nation's largest automotive retailers will provide us with a valuable perspective."
A news item at Yahoo! Finance states, "Thomas R. Gibson was chairman of Asbury Automotive Group, one of the nation's largest automotive retailers, from 1994 to 2003. He was also Asbury's chief executive officer between 1994 and 1999, as well as interim chief executive officer for a portion of 2001. Prior to joining Asbury, he served as president and chief operating officer of Subaru of America, Inc. and as director of marketing operations and general manager of import operations for Chrysler. Mr. Gibson began his career in 1967 with Ford Motor Company and held key marketing and field management positions in both the Lincoln-Mercury and Ford divisions. He also serves on the board of
directors of IKON Office Solutions. Mr. Gibson is a graduate of DePauw University and holds a master's in business administration from Harvard University."
Read more by clicking here.
Back