DePauw Benefits Local Economy by $176+ Million Annually, Creating 2,335 Jobs, New Study Finds
July 3, 2005
July 3, 2005, Greencastle, Ind. - DePauw University provides more than $176 million in benefits to Central Indiana on an annual basis and its activities create jobs that employ 2,335 people, according to an independent economic impact study. The Louisville, Kentucky-based EconImpact performed a comprehensive review of the University over the 2003-04 academic year. The findings, just released, show that one dollar of every $10 in business spending in Greencastle is generated by DePauw; the ratio is 1 to 12 for all of Putnam County.
"It was our desire to learn more about DePauw's impact on the local economy, particularly job creation and tax revenues provided by employees, says Richard Speller, vice president for administration and finance at DePauw University. "As county governments face economic challenges we wanted to better understand how DePauw supports the business environment and people's ability to find jobs. Like earlier studies, this one shows that DePauw's impact on Greencastle and the surrounding communities is extremely positive."
EconImpact's Kevin B. Stokes made several trips to the area over approximately six months visiting the campus and the
community to interview DePauw administrators and Putnam County community and business leaders. His report tallies the impact of University spending and hiring, and the ripple effect those dollars have. The study's analysis of students only takes into account revenue from DePauw undergraduates who come to the University from outside of an eleven county area (Boone, Clay, Hendricks, Marion, Monroe, Montgomery, Morgan, Owen, Parke, Putnam, and Vigo Counties). "Since this revenue derives from outside the region, it is new money to the region," Stokes notes. His analysis utilizes "multipliers" derived from the U.S. Department of Commerce to ascertain how spending by the DePauw community impacts the local economy when combined with successive rounds of re-spending of the initial dollars in the region.
DePauw's economic impact of $176 million on Central Indiana includes:
Direct Spending - $47 Million
Secondary Spending - $20 Million (direct and secondary spending comes out of the pockets of students, faculty, staff and employees, as well as others associated with the University and its activities. This is money spent for food, clothing, books, travel, entertainment, housing, furniture, car repairs, banking, etc.).
Alumni Increased Earnings - $59 Million (earned and spent by the more than 3,200 working DePauw alumni in the region. This is income generated by the improved economic standing of these men and women. This is what their education is worth to them day by day, in terms of a larger income than they would have earned had they gone directly to work and not attended DePauw University).
New Jobs - $49 Million (earned by the 1,713 people whose jobs were created by DePauw activity. This is income that would not exist but for the University community).
Benefit to Local Governments - $0.5 Million (this is the positive impact of DePauw University to the treasuries of Greencastle and Putnam County government agencies).
Breaking it down, the University's impact on Greencastle is:
DePauw accounts for $1 of every $10 of business spending.
Produces 24% of Greencastle City Government revenues.
Costs 21% of Greencastle City Government expenditures.
328 Alumni live in Greencastle.
DePauw University and Putnam County:
DePauw accounts for $1 of every $12 of business spending county-wide.
Produces 6.5% of Putnam County Government revenues.
Costs 4.8% of Putnam County Government expenditures.
789 Alumni live in Putnam County.
Other highlights:
The analysis finds that more than 48,000 people from outside the region came to the DePauw campus in the course of a year for football games, parental visits, summer camps and weddings, among other things. Together, the visitors spent $2,097,000 in the area.
One thousand, eight-hundred-eighty-eight of the 2,163 students who attended DePauw in 2003-04 came from outside of Central Indiana. These students spent $5,966,681 in the region.
There are a total of 622 full time faculty and staff members at DePauw University. These people --being directly employed by DePauw -- contribute most of their income after taxes into the area economy. There are also jobs for students on campus. In addition there are 1,713 other people who owe their jobs to the existence of DePauw University. That's machinists, farmers, insurance agents, dentists and bank vice presidents, who have jobs because of DePauw. These positions contribute $49 million to the local economy.
DePauw, its faculty and staff, and its alumni, pay a total of $493,836 in annual property taxes. The University receives $55,606 in exemptions, meaning it provides a net benefit of $438,230 to the local property tax base. Additionally, the DePauw community contributed $127,000 of the $477,000 Greencastle received in motor vehicle tax revenues.
Total annual economic activity in Greencastle is $411,200,093. DePauw contributes 9.9% ($40,790,548) of that total.
Students, faculty and staff of DePauw combined to provide 87,750 hours of volunteer community service work to their Greencastle and Putnam County neighbors in 2003-04. All told, about 75% of DePauw students volunteer during their time at the University, and the average undergraduate volunteered 29 hours of their time.
DePauw's ALPHA Program, initiated in 1997, allows advanced level students from Putnam County High Schools to take college level classes for credit. Forty local students benefited in 2003-04, and DePauw discounted its tuition to them by 93%, a benefit to the community totaling $135,000. Over the past seven years, about 280 local students have participated in the ALPHA program for a total scholarship benefit of more than $709,000.
Over the past two years, DePauw has paid almost $200,000 for neighborhood improvements such as sidewalks, storm sewers, and curbs.
The report also notes the many camps and athletic events DePauw hosts on behalf of the community, and spotlights the new 481-acre DePauw Nature Park as an asset that benefits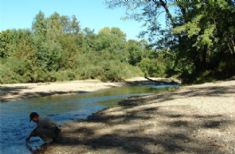 all who live in the region and will serve to draw more visitors to Putnam County in the future.
"It's really something to see the many things DePauw does and oversees listed in this fashion," Speller added. "We're proud of our strong, nearly 170-year history in Greencastle, and excited that in the years to come we can do even more to benefit the local economy and those who call Putnam County home."
To view the complete report online, click here.
Back