Eric Schlosser's Address to DePauw's Class of 2005 Noted in Chronicle of Higher Education
June 27, 2005
Also: Coverage of Eric Schlosser's Commencement Speech
June 27, 2005, Greencastle, Ind. - The latest (July 1) issue of the Chronicle of Higher Education prints excerpts from eight college commencement speeches from across the United States, and Eric Schlosser's May 22 address at DePauw University is among them. A lengthy passage from Schlosser's speech, "Freedom," is printed in the "Mélange" column on page B2 of the Chronicle Review. Others quoted include Tom Brokaw (who spoke at Emory University), U.S. Poet Laureate Ted Kooser (University of Nebraska at Lincoln), and George F. Will (University of Miami).

[Download Audio: "The Emergence of Truth" - 213kb] "We must protect the right to seem stupid, to seem foolish, to seem wrong," Schlosser told the seniors moments before they received their diplomas.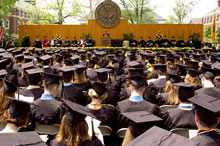 "Because the truth will finally emerge not from the mouth of one great leader, but from the conflicting opinions and the honest debate of people like you."
Access the column online by clicking here (a paid subscription to the Chronicle is required).
You'll find a story on the speech by Eric Schlosser, author of Fast Food Nation, along with video and audio clips and a link to the complete address, here.
Source: Chronicle of Higher Education
Back