Prof. Ken Bode: American Parents Have Much to Think About as Iraq War Continues
July 1, 2005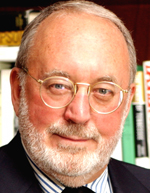 July 1, 2005, Greencastle, Ind. - "Imagine that you watched the president's speech on Iraq on Tuesday night because your son or daughter was among the 740 soldiers in uniform at Fort Bragg preparing to deploy to Iraq or already stationed in the war zone, or you have a recent high school graduate who is receiving weekly calls from recruiters," writes Ken Bode in today's Indianapolis Star. "These Americans pay closer attention to the war than those of us who with no immediate personal stake in Iraq," the Eugene S. Pulliam Distinguished Visiting Professor of Journalism at DePauw notes, as he writes of the latest news from Iraq and President Bush's prime-time address.
Dr. Bode, a veteran journalist who reported for CNN and NBC, recounts the latest headlines from Iraq, noting, "Just how bad things are going in Iraq can be tracked daily if you have the stomach for it." Tuesday night, "The president said nothing new about America's strategy. We are in Iraq as long as we are needed, and there can be no timetable for withdrawal. It was advertised that he would give a pitch for military service, but all he said was that if any of those watching were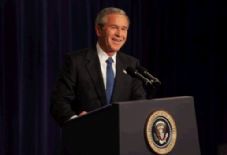 considering a military career, 'There is no higher calling.'"
The professor continues, "That will be of little help to the Army recruiters who are becoming desperate in their efforts to meet their quota of enlistments. Stories are legion of recruiters violating military guidelines, hiding police records and medical histories of potential recruits, showing one young man how to falsify a high school diploma and clear illegal drugs from his system. Parents are organizing to keep military recruiters off high school and college campuses, complaining that they are hustling youngsters with free iPods and video games and making exaggerated promises about bonuses, education and jobs. The most frequent complaint is that recruiters are making the false promise that new enlistees will not be sent to Iraq."
Bode concludes, "How we populate the military for America's open-ended stay in Iraq is becoming more and more problematic. The Army hasn't made its recruitment quota since January even with relaxed requirements on age and education. Of the 3,900 former soldiers ordered to mobilize, one-third resisted their call-ups. Maj. Gen. Michael Rochelle, the man in charge of Army recruiting, says that

less than 10 percent of the 80,000 new active-duty soldiers the Army needs next year will actually be in the pipeline. Americans are losing their appetite for this war in Iraq. Think about all this. Especially if you have draft age children."
Read the complete op-ed at College News.org.
Ken Bode's other recent columns can be accessed here, here, here, here,here, here, here, here, here, here, and here. He also recently contributed a review of the new book, The Survivor: Bill Clinton in the White House, to the Boston Globe. Read more here.
Source: Indianapolis Star
Back