Effort to Get Medal of Honor for World War II Hero Alex Vraciu '41 Noted in Newspaper
July 4, 2005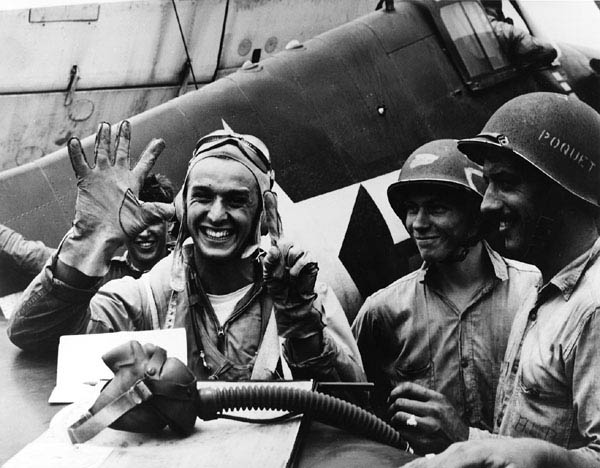 July 4, 2005, Greencastle, Ind. - The Indianapolis Star writes of an ongoing effort to "award the Medal of Honor to Alex Vraciu, a Navy pilot who shot down six Japanese planes in eight minutes in World War II." Vraciu is a 1941 graduate of DePauw University; Harry Block of Indianapolis, a World War II vet and amateur aviation historian, is leading the charge to get Congressional recognition for Vraciu. Ruth Holladay writes, "Vraciu, now 86, is an East Chicago native and son of Romanian immigrants. After graduating from DePauw University in 1941, he joined the Navy. He flew Hellcats in the Pacific and shot down Zeros -- slang for Japanese aircraft and U.S. fighter planes." (photo: then-Lieutenant Alexander Vraciu aboard the U.S.S. Lexington shortly after downing six Japanese dive bombers in a span of eight minutes during the First Battle of the Philippine Sea; June 19, 1944)
Block tells the newspaper, "[Vraciu] shot down 19 (Japanese planes) in

the air in combat and 21 sitting ducks on the ground. He knocked off a Japanese merchant ship... The Navy gave two Medals of Honor to its fighter pilots. The Marines gave 10!"
Read the complete article at the newspaper's Web site.
Alex Vraciu's legacy is noted in the book, Fly Navy: Naval Aviators and Carrier Aviation, A History. Read more about it here, and access other stories on him here and here.
Back