It's Time for Voters to Demand More from the Election Process, Writes Lee Hamilton '52
July 18, 2005
July 18, 2005, Greencastle, Ind. - "It may seem too early to start thinking about next year's congressional elections, but let me assure you that a lot of campaign professionals are already doing just that. This should worry you," writes Lee Hamilton, former congressman and vice chair of the 9/11 Commission and 1952 graduate of DePauw University. In the Washington Examiner, Hamilton writes, "for some time now, I have been uneasy about the way we conduct elections for Congress."
With consultants and huge advertising budgets, "Elections have become enormously complicated events," Hamilton argues. "Because these elections are for high stakes, cost huge amounts of money and require prodigious effort, no one wants to take chances. So candidates' public events are highly structured and often designed to insulate them from detailed discussion. The result: It is difficult these days to encounter the 'dialogue of democracy' that campaigns are supposed to represent -- the chance for citizens to hear candidates talk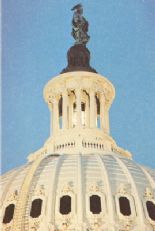 openly and extensively about their core beliefs or their views on issues and an opportunity for candidates and citizens to engage one another in debate and discussion."
The current state of campaigning results in "tightly controlled appearances" in which candidates play it safe and offer little of substance, Hamilton asserts. "The result is that voters often are not getting the information they need to make informed judgments. This is not good for our Republic. It's hard to know what our representatives are actually representing if voters never get the chance to explore the main issues of the day with those who are seeking public office."
A member of the House of Representatives for 34 years and now director of the Center on Congress at Indiana University, Hamilton calls on voters to demand more debates and candidate forums, and to pressure media outlets to provide more in-depth coverage of the men and women running for office. "If we do everything we can to ask hard questions of our candidates, if we go to those debates, forums and coffees prepared to engage with those who would represent us and to insist on answers, we can take the election process back into our own hands," he writes. "If we demand more of ourselves, our politicians will have no choice but to
follow, and the Republic will be better for it."
Access the complete text by clicking here.
Lee Hamilton recently received a national Jefferson Award for public service. Read more in this previous story.
Back