Griff Mills '88 Named Athletic Director at Michigan HS
July 20, 2005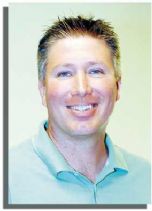 July 20, 2005, Greencastle, Ind. - Griff Mills, a 1988 graduate of DePauw University, has been named athletic director at Michigan's Tecumseh High School, reports today's Tecumseh Herald. Mills comes to his new post from Ypsilanti High School, where he served in a similar capacity. Mills is the former men's head basketball coach at Tusculum College in Greeneville, Tennessee, and prior to that, Armstrong Atlantic State University in Savannah, Georgia, compiling a 192-144 record over 12 years.
"My father-in-law became ill and I told my wife [Tybe] that if she got a teaching job closer to her parents [in Michigan] I'd put my resignation in," Griff Mills says of his decision to leave college coaching. The newspaper's Mickey Alvarado adds, "His wife wound up getting a teaching position at a Ypsilanti Middle School and that's when everything else fell together for his family. 'It just so happened that a couple of weeks later there was an assistant principal/athletic director job open there. I interviewed for that, got the job, and have been the AP/AD at Ypsilanti
High School for the last two years.'"
Access the complete article, which notes that Mills's association with "DePauw University in Indiana, where he graduated with a major in economics after playing four years of basketball," by clicking here.
Read a previous story on Griff Mills here.
Back