One of America's 45 "Best Values," DePauw Offers Students "A Multitude of Opportunities," Says Fiske Guide To Colleges 2006
August 1, 2005
August 1, 2005, Greencastle, Ind. - "DePauw offers students a New England liberal arts education with decidedly Midwestern flair," notes the Fiske Guide To Colleges 2006, which has just arrived in bookstores across the nation. The guide ranks DePauw University as one of 45 "best values" -- 17 public and 28 private colleges and universities "that offer remarkable educational opportunities at a relatively modest cost."
The 22nd edition of the college guide cites DePauw's "solid" art history, creative writing, computer science, music, and economics programs. "Students here are career-oriented and happy to take advantage of the rigorous classwork and ample real world experiences," the book's editors write. "And with an undergraduate population of 2,300 students, close ties to classmates and faculty is a given."
The text points out that 75% of DePauw students are engaged in community service projects, and that the University is among the top schools nationwide for students that study abroad. It also highlights the internship
opportunities available each Winter Term and through the Programs of Distinction, and the nearly 100 student organizations that are available at DePauw.
Fiske summarizes, "For a small school, DePauw offers a multitude of opportunities, balancing strong academics with a healthy dose of school spirit and a wealth of opportunities to lead -- whether in one of the abundant extracurricular activities or by blazing a trail through study abroad. 'The University, the faculty, and the staff are all amazing and will give you stepping stones with which to build your path,' says a junior. 'Don't overlook or discount any of these opportunities, because there will never be another one just like it.'"
Read more about Fiske Guide To Colleges 2006 at Amazon.com and Barnes & Noble.com.
U.S. News & World Report has ranked DePauw in the nation's top tier of national liberal arts colleges for six consecutive years. The Princeton Review ranks DePauw as one of 81 schools it recommends in the new 2006 edition of its book, America's Best Value Colleges; and its annual publication, The Best 357 Colleges: 2005 Edition, also gives DePauw high marks for its academics and social scene. The University also earns high marks the 2005 edition of the Unofficial, Unbiased Guide to the 331 Most Interesting Colleges and College Prowler's new guide to DePauw University. The National Survey of Student Engagement finds that students at DePauw University enjoy significantly more academic challenges, interactions with faculty, collaborations with others and enriching educational experiences than students at peer institutions and the national average at all colleges and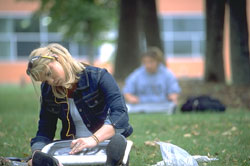 universities. An October 2004 article in Atlantic Monthly cited the value of a DePauw degree, and a national survey posted at Forbes.com lists DePauw as America's #3 "most connected campus." Finally, College Prowler's guide notes that "DePauw has many highly acclaimed professors. They love what they do and want to be here," the text continues. "They're smart and they want their students to rise to their highest potential. They make their pupils work hard. So, be prepared to hold your own."
Prospective students who would like more information on DePauw University, including access to an online application form, can click here.
Back