Newspaper Notes Monon Bell's #1 Ranking in ESPN 'Best Rivalry' Poll
August 1, 2005
Vote for Indiana's Best Sports Rivalry Here
August 1, 2005, Greencastle, Ind. - "You can go to the ESPN Web site and vote on your favorite Indiana sports moment, sports team, sports personality, etc," notes a story published in today's edition of the Bloomington Herald-Times. "As soon as you submit your vote, the current results are revealed. You might be surprised at some of the choices," the newspaper notes.
"Best rivalry? If you're guessing IU-Purdue basketball, try again. IU-Purdue football? That isn't even seen as a rivalry anymore. IU-Kentucky basketball? Nope, a distant fourth. Notre Dame-Purdue football? Getting closer -- third. The state's No. 1 rivalry at this point in time is... drum roll, please... DePauw-Wabash football. That is saying the state's biggest prize is the Monon Bell, not the Old Oaken
Bucket," Lynn Houser writes.
The complete story is available to paid subscribers of the Herald-Times by clicking here. Learn more about the ESPN survey, the Monon Bell Classic's strong showing and the appearance of 1969 DePauw graduate Dan Quayle on the ballot, by clicking here. You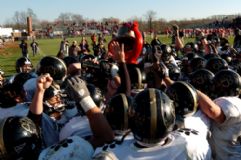 can cast your own vote at ESPN's Web site.
The 112th Monon Bell Classic, which will be played November 12 at DePauw's Blackstock Stadium, will again be nationally televised on DirecTV channel 321. Learn more in this previous story. DVDs of the last four battles for the Bell are available.
Read more here, and access DePauw's Monon Bell Web page by clicking here.
Source: Bloomington (Ind.) Herald-Times
Back