Ryan Johnson '95 Named Assistant Women's Basketball Coach at Utah State
August 3, 2005
August 3, 2005, Greencastle, Ind. - Ryan J. Johnson, a 1995 graduate of DePauw University, has been named assistant women's basketball coach at Utah State University. Johnson joins the Aggie program from Colorado State University, where he was director of basketball operations for the women's basketball program.
"We overacheived in getting coach Johnson to join our staff," Utah State women's basketball coach Raegan Pebley said today as she announced the appointment. "He is a great coach at the grass roots of basketball including player recruitment and individual player development. He is a basketball junkie, who is very good at what he does and is exactly what we needed at that position."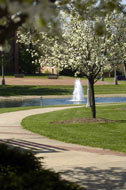 A story at College Sports.com notes, "Johnson first stepped into the coaching ranks as a girls' junior varsity head coach and varsity assistant at Wheat Ridge (Colo.) High School from 1995-99 where the teams made Elite Eight and Sweet 16 appearances. He then served as the assistant girls varsity coach at Arvada West (Colo.) High School from 2000-02, helping guide the team to a Sweet 16 appearance. In 2003 he was an assistant coach for the Colorado Hoopsters, an elite girl's club team, while also working as a marketing rep for a pharmaceutical company. A 1995 graduate of DePauw University (Ind.), Johnson earned his bachelor's degree in biological sciences and then earned a master's degree with an emphasis in sports management from the University of Denver in 2001."
Read more by clicking here.
Back