617 New Students Arrive August 20
August 5, 2005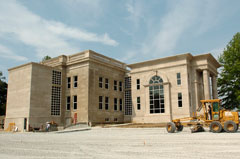 August 5, 2005, Greencastle, Ind. - Workers putting the finishing touches on the William Weston Clarke Emison Museum of Art is just one sign that another academic year is about to begin at DePauw University. On August 20, DePauw will welcome 617 new students and their families to the Greencastle campus. Classes begin four days later. The new class is the product of a year that yielded 3,505 completed applications for admission to DePauw, the second-highest total in the University's history.
"As DePauw's national prominence has increased in recent years, we've had to become even more selective," says Stefanie Niles, dean of admission. "DePauw admitted the second smallest percentage of applicants in its history this year, and the incoming students have established a remarkable record of scholarship and involvement in extracurricular activities and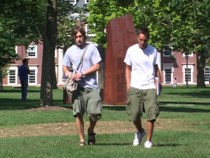 community service during their first 18 years of life. I'm delighted that they've selected DePauw as the place to continue their education."
The entering class comes from 34 states and 10 foreign countries. Their median unweighted high school grade point average is 3.71 -- two-tenths of a point higher than last year's new students -- while the median SAT is 1250. The median class rank of the Class of 2009 is the top 9% of their high schools, 45 were valedictorians or salutatorians, 21% are first-generation college students and 22% have alumni ties: parents, siblings or other relatives who attended DePauw. Thirteen percent are students of color.
Forty of the incoming students are enrolling in the DePauw University School of Music. There are 68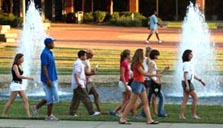 Holton Scholars in the entering class, as well as 19 (each) Bonner Scholars and Rector Scholars, and 10 LEAD (Leadership, Education and Diversity) Scholars. DePauw's Programs of Distinction will welcome more than 150 new participants. The Class of 2009 includes 33 Honor Scholars, 52 Management Fellows, 24 Media Fellows, 20 Science Research Fellows, and 36 Information Technology Apprentices.
Niles says DePauw's nationally recognized faculty, which includes 233 full-time professors, is a major draw for young scholars. "They realize that, with a faculty-student ratio of one-to-ten, DePauw provides an educational experience not found at many other colleges and universities," she says. "All of our classes are taught by professors -- there are no 'teaching assistants' -- and if
students have a problem or a question after class, they know their professor will be available."
U.S. News & World Report has ranked DePauw in the nation's top tier of national liberal arts colleges for five consecutive years. The just-released Fiske Guide To Colleges 2006 ranks the University as one of 45 "best values"The Princeton Review's annual publication, The Best 357 Colleges: 2005 Edition, also gives DePauw high marks for its academics and social scene, as do the 2005 edition of the Unofficial, Unbiased Guide to the 331 Most Interesting Colleges and College Prowler's new guide to DePauw University. The National Survey of Student Engagement finds that students at DePauw University enjoy significantly more academic challenges, interactions with faculty, collaborations with others and enriching educational experiences than students at peer institutions and the national average at all colleges and universities.
DePauw's buildings and grounds also attract visitors to campus. The William Weston Clarke Emison Museum of Art, originally constructed in the early 1900s, will serve as a home for the University's Shidzuo Iikubo Museum and its Arthur E. Klauser
Asian and World Community Collection, a gallery for the Vandiver-Haimann Collection of African Art, curated exhibits from DePauw's permanent art collection, and touring exhibits and special exhibits from the Indiana Museum of Art, Indiana State Museum, Indiana Historical Society and other organizations. Read more in this previous story.
A special Web site has been constructed for the Class of 2009. Visit it here.
Prospective students who would like more information on DePauw University, including access to an online application form, can click here.
Back