Ben Murray '04 Quoted in Newspaper Profile of Former Purdue Kicker
August 4, 2005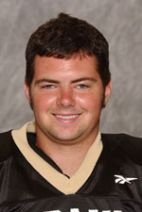 August 4, 2005, Greencastle, Ind. - A story in Indiana's Lafayette Journal and Courier on former Purdue University kicker Tim Clark includes the insights of Ben Murray, a 2004 graduate of DePauw University, who handled the placekicking chores for the Tigers and was a four-year letterman in football. In the summer of 1997, "Murray sought someone who could teach him to kick a football," writes Jeff Washburn. "'I did not know what to expect,' said Murray, who went on to kick at DePauw University. 'All I knew was that Tim kicked at Purdue years ago. I was anxious and nervous, and when Tim arrived, I did not know what to say to him.'"
Murray's quote continues, "He sensed that and joked around with me while we warmed up. He broke the ice by showing me how he kicked with a partially amputated foot. I was privileged to know a man who was willing to give up his free time to come and work with me. Tim is a great man who cares about helping the area's youth as much as he can."
The article notes "Clark lost half of his right foot in a home lawnmower

accident when he was 19 months old. To this day, he feeds off that loss, using it as a source of motivation for others, as well as for himself."
Read the piece at the newspaper's Web site.
Back