Résumé Adjustment Rampant as Republicans Begin Jockeying for Position in 2008 Presidential Race, Writes Prof. Ken Bode
August 5, 2005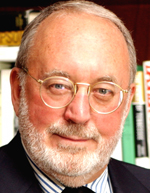 August 5, 2005, Greencastle, Ind. - Republicans considering making a run for their party's presidential nomination in 2008 are "getting in line with the policy checklist of the religious right," writes Ken Bode in today's Indianapolis Star. Several candidates, he notes, are "involved in résumé adjustment in preparation for the campaign. The Christian right is the dominant force in Republican presidential politics in terms of both money and votes."
Bode, Eugene S. Pulliam Distinguished Visiting Professor of Journalism at DePauw University, notes that Massachusetts Governor Mitt Romney ran for his current office as a moderate, but now "is retrofitting himself for the possibility of a run for president in 2008... [Romney] recently wrote an article for the Boston Globe saying he did not believe abortion should be legal and then vetoed a bill allowing the morning-after contraceptive, calling it 'an abortion pill.' He also invoked a 1913 law to keep out-of-state same-sex couples from being married in Massachusetts and he favors restoring the death penalty in Massachusetts."
The professor points out that New York Governor George Pataki has announced he will not seek a fourth term and, like Romney, may be looking at a run for the White House. "Pataki is the nation's longest-serving governor, in part due to his pro-choice politics. He also pushed through the legislature a bill banning discrimination against gays. Recently, however, he announced that he plans to veto a bill making the morning-after pill available without a prescription. He also has pushed to reinstate the death penalty in New York."
Then there's Senator Bill Frist, who last week "adjusted himself in the opposite direction, announcing he now would support federal funding for more embryonic stem cell research. This research could help arrest or cure Parkinson's, Alzheimer's, multiple sclerosis and other degenerative diseases. Support for it crosses party lines."
In conclusion, Dr. Bode, former senior political analyst at CNN, asserts, "President Bush added an item to the religious right's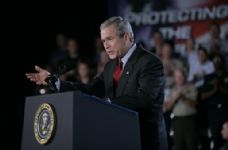 presidential issues agenda when he said he supports the conservative Christian push to have intelligent design get equal standing with evolution in the nation's schools. Intelligent design is the belief that complex life forms cannot be explained entirely by evolution, thus leading to the inevitability of divine creation. The coalition of Christian conservatives, including about 250 radio and TV outlets, warmly welcomed the president's endorsement. Watch to see which of the presidential wannabes join up in the days ahead."
Read the complete op-ed at College News.org.
Ken Bode's other recent columns can be accessed here, here, here, here, here, here, here, here, here, here and here.
Source: Indianapolis Star
Back