Prof. Ellen Maycock Appointed Executive Director of American Mathematical Society
August 5, 2005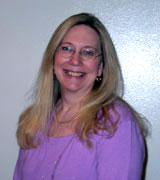 August 5, 2005, Greencastle, Ind. - Ellen Maycock, Johnson Family University Professor and professor of mathematics at DePauw University, has been appointed associate executive director of the American Mathematical Society (AMS), starting in September 2005. Dr. Maycock is taking a leave of absence from her position at DePauw. At the AMS, she will oversee the meetings, public awareness, and membership and programs departments of the Society.
"It is very exciting to think about being involved at the national level," she says. "The profession is changing rapidly, and there are new pressures on all of us. I have always been interested in not only the subject of mathematics, but also the people in mathematics -- mathematicians. I feel I might have a chance of making a difference for them."
Dr. Maycock "brings valuable experience to the Society and fresh ideas,"

says AMS executive director John H. Ewing. "And she will forcefully remind us that the AMS represents all mathematicians, from the largest universities to the smallest colleges. This is a great opportunity for us."
"Professor Maycock has been a leader for DePauw in curricular innovation in the teaching of mathematics and in guiding the writing program," adds Neal B. Abraham, executive vice president of the University, vice president for academic affairs and dean of the faculty. "Her work with colleague Mark Kannowski to develop Calculus with Review has encouraged many more DePauw students to succeed in a year-long study of calculus. Her interests in research and teaching, and her broad interest in the liberal arts, will serve her well in her new position at the AMS."
Maycock received her bachelor's degree in mathematics and economics in 1972 from Wellesley College, and her Ph.D. in mathematics from Purdue University in 1986. An announcement from the AMS notes, "Maycock is perhaps best known for her development of innovative approaches to teaching abstract algebra. She created a course that used a software package called Exploring Small Groups to help students grasp algebraic concepts."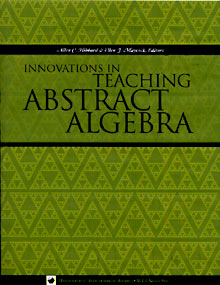 The professor authored Laboratory Experiences in Group Theory, which was published by the Mathematical Association of America, and is co-editor of Innovations in Teaching Abstract Algebra. Maycock has lectured widely on the use of technology in teaching undergraduate mathematics and has given several workshops and minicourses on the subject. "Technology gives students an easy way to generate a lot of examples, and then they can start to recognize patterns," she states.
Read more by clicking here. Founded in 1888 to further mathematical research and scholarship, the 30,000-member American Mathematical Society fulfills its mission through programs and services that promote mathematical research and its uses, strengthen mathematical education, and foster awareness and appreciation of mathematics and its connections to other disciplines and to everyday life.
Ellen Maycock was featured in a January 25, 2002 New York Times story. Read more here.
Back