"Rising Star" Ron Stiver '96 Featured in Indianapolis Business Journal
August 6, 2005
August 6, 2005, Greencastle, Ind. - Although Ron Stiver, commissioner of the Indiana Department of Workforce Development (DWD) and a 1996 graduate of DePauw University, "is still far from a household name, he's a rising star in the Indiana Republican Party," notes the latest edition of the Indianapolis Business Journal. The story details Stiver's efforts to overhaul DWD and create new jobs and higher incomes for Indiana residents.
"Stiver says the world is flat, with the United States no longer having mountainous advantages over other nations," writes Peter Schnitzler. "And Stiver knows Hoosiers must prepare for it to get even flatter. 'You're talking to the converted,' Stiver said. 'I believe in the 21st century, the major lever for economic development will be work-force development.'"
The text continues, "Stiver, 31, is reorganizing DWD with the new flat world in mind. He envisions an agency that moves beyond doling out unemployment checks and the occasional training grant for displaced auto workers. To that end, he's reorganizing DWD's 1,100 employees and attempting to wring the most out of his $175 million annual operating budget. Thomas Friedman's book The World Is Flat: A Brief History of the 21st Century is Stiver's favorite reference manual.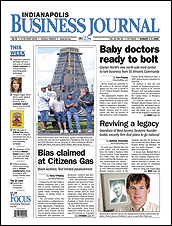 It argues that in today's global business environment, minds, not muscle, are what matter and that sociological and technological changes are leveling the global playing field."
The article notes Stiver's DePauw degree and M.B.A. from Duke University. "His professional career has largely been with Eli Lilly and Co., where a fast-track path led him to become brand strategy manager for Lilly's $980 million U.S. Osteoporosis Business Unit." Ed Feigenbaum, publisher of Indiana Legislative Insight, tells IBJ, "He's a guy they've given a lot of freedom and latitude to and are expecting a lot from. My guess is, he's bound for much bigger and better things than DWD."
Read the complete story by clicking here.
Back