Bipartisanship is Goal of New Partnership for a Secure America, Co-Chaired by Lee Hamilton '52
August 8, 2005
August 8, 2005, Greencastle, Ind. - "The Partnership for a Secure America has big names and big bucks behind it. It's practically a who's who of American foreign policy thinkers and doers of the past couple of decades, with former Indiana congressman Lee Hamilton prominent among them," writes Sylvia A. Smith in Indiana's Fort Wayne Journal Gazette. Hamilton, a 1952 graduate of DePauw University, served as a United States Congressman for 34 years and was vice chair of the 9/11 Commission.
The newly-formed Partnership for a Secure America is designed to provide a bipartisan voice. The Boston Globe quotes Hamilton as saying the goal of the partnership is "broadening the support for American foreign policy to the maximum extent." Hamilton and Warren Rudman, a former Republican Senator from New Hampshire, will co-chair the group. Other members include "Madeleine Albright, Howard Baker, Jack Danforth, Sandy Berger and a host of others from Republican and Democratic administrations."
The group's own mission statement notes, "Sixty years ago, a great generation of Americans came together to build a better world from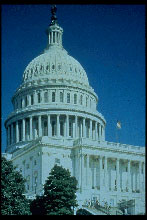 the ashes of war. Republicans and Democrats cooperated in supporting a bipartisan foreign policy to protect the American people against a powerful, long-term threat to our national security. Today, a new long-term global peril faces our country. But growing partisan bitterness is derailing substantive discussion and vigorous debate on national security issues."
Read Smith's editorial by clicking here, and access the piece in the Globe here.
Lee Hamilton was recently honored as a 'Living Legend' by the Indiana Historical Society. Learn more in this previous story.
Back