Declining Poll Numbers Suggest "Growing Unease with the Character and Conduct" of Iraq War, Prof. Kevin Howley Writes
August 8, 2005
August 8, 2005, Greencastle, Ind. - "The toll of the war here at home is hard to miss and, with good reason, the American people are articulating their fear, their shame, and their unease with what was cheerfully described by administration officials and an all too deferential press as a 'cakewalk,'" writes Kevin Howley in the latest edition of Indiana's Bloomington Alternative. Howley, assistant professor of communication at DePauw University, analyzes the results of recent polls which show public support for the war in Iraq eroding.
The declining numbers "reveal a mounting distrust in the Bush administration's motivation for launching the invasion of Iraq in the first place, and growing unease with character and the conduct of the occupation," Dr. Howley writes. He notes "the administration's case for war has been undermined by a spate of reports that challenge the credibility of the White House's rationale for war," and "neither the Bush Administration nor a subservient White House press corps can ignore the 'facts on the ground' both in Iraq and here at home. Contrary to administration's spin, the insurgency is growing ever more sophisticated and lethal."
The professor concludes, "If there is a bright side in any of this, it is this: the shift in public opinion demonstrates the limits of the White House's propaganda efforts. With every moderate politician, courageous journalist, and so-called 'ordinary' American who refuses to uncritically accept the administration's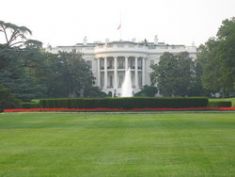 line and speaks out against this calamity, the Bush Administration might at long last be held accountable for its manipulation of pre-war intelligence, its tragic miscalculation of the economic and human costs of a protracted occupation, and its arrogant refusal to observe the precepts of international law."
Access the complete op-ed by clicking here.
Back