Prof. Ted Rueter Appears on ABC's 20/20
August 14, 2005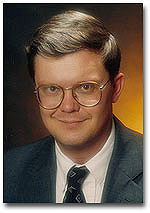 August 14, 2005, Greencastle, Ind. - "I've had many people write to me say... they have boom cars blasting through their neighborhood every five minutes," Ted Rueter tells ABC's 20/20. Rueter, assistant professor of political science at DePauw University and executive director of Noise Free America, was interviewed on the prime-time news magazine for a segment that aired Friday night.
ABC's John Stossel noted that Rueter's organization "lobbies against noise pollution and is upset about four big sources of unnecessary noise: boom cars, car alarms, leaf blowers and motorcycles.

There are noise pollution laws in most places, but Rueter said the cops rarely enforce them."
The report continued, "Sony's Web site has a tag line promoting its car audio products as the way to achieve 'the sound your neighbors fear.' Rueter thinks such advertising encourages boys to go out and cause trouble by blasting their stereos. 'It causes psychological fear... It causes hearing loss. It causes sleep loss,' said Rueter... 'People have the right to enjoy their property, and increasingly people
do not have that right in this country, because of boom cars.'"
Access a transcript of the story by clicking here; video of the segment is also available at ABC's site.
Dr. Rueter's op-ed advocating a consumption tax for America was published in Friday's Herald-Times of Bloomington, Indiana. Read more here.
Source: "20/20"/ABC News
Back