DePauw Parent Quoted in Newspaper's Back-to-School Story
August 19, 2005
August 19, 2005, Greencastle, Ind. - "As thousands of students start their freshman year this fall at colleges around the state and the nation, their parents are left to adapt to the changes that come with letting go of their children," notes an article in the Fort Wayne News-Sentinel, which includes comments by "Kristen Brower of Fort Wayne. She and her husband, Ed, took their first son Matt to DePauw University in Greencastle three years ago. He adjusted well and liked college, which helped calm some of her worries."
"You have to step back and let them deal with things on their own," Mrs. Brower tells the newspaper. "You have to be there for them but not try to control their lives." Sheena Dooley writes, "The first year, Brower said she didn't miss her son because she saw him at least once a month. It wasn't until his sophomore year that it hit her he wasn't coming home again. She experienced short periods of sadness, but dealt with them by keeping busy with small projects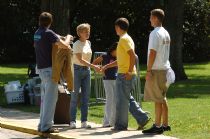 around the house. It also helped having her youngest son Kyle at home."
Access the complete story at the newspaper's Web site.
DePauw welcomes 617 new students to campus tomorrow. Read more about the incoming class in this previous article.
Back