President Bottoms Urges 617 New Students to "Learn Cooperation" as They Enter DePauw
August 20, 2005
View Opening Day Photo Gallery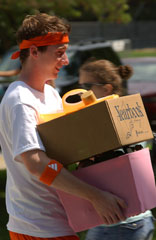 August 20, 2005, Greencastle, Ind. -

[Download Video: "The Opportunity to Transform" - 1896kb] "This is what we offer you: the opportunity to have relationships with educated faculty who are passionate about their disciplines, who are willing to share with you in what could be -- if you give them the opportunity -- an intense transformational experience," said President Robert G. Bottoms today was he welcomed 617 new students to DePauw University. The young scholars -- from 34 states and 10 foreign countries -- arrived on campus today and checked into residence halls. Dr. Bottoms, who is beginning his 20th year as DePauw's president, welcomed the students and their parents in the afternoon at the traditional opening convocation in Kresge Auditorium of the Performing Arts Center.
"In fewer years than the number of fingers you can count on one hand, the world has changed dramatically," the president told the packed auditorium. With the
events of September 11, 2001, Americans experienced a new "vulnerability," Bottoms noted. Now facing looming terrorist threats, and engaged in a war in the Middle East, the world is a more dangerous place than it was when these same students entered high school.

[Download Audio: "Cooperation" - 74kb] "And it will take a lot of cooperation from a lot of countries for the world to be anything but hostile to your hopes and your dreams. The art of international cooperation must be recovered if we are to live in peace."
Bottoms also spoke the mounting environmental challenges the world faces. In the 1850's, research showed that species were becoming extinct at a rate of one in every five years, the president stated; today, it is one in every nine minutes.

[Download Audio: "Environmental Challenges" - 63kb] "This is not the planet we were born on,
and it will take global cooperation of many governments, across many cultures, to correct all of our accumulated past errors."
The president continued, "This is a world we all face. And one of the challenges of your DePauw education will be whether you'll be personally touched by these problems and others of society that so badly need to be solved, and whether you will use your time to prepare yourselves as young citizens -- leaving DePauw in four years -- to address these issues. And my thought for the afternoon is that nothing will help you more as a student than learning and nurturing the skill of cooperation."
Fifteen percent of the incoming class are minority
students; 21% are the first in their families to attend colleges, and Bottoms discussed DePauw's continuing efforts to increase the diversity of its student body, faculty and staff. He told the new students,

[Download Video: "Learning About Difference" - 1963kb] "You bring with you the gifts, if you use them, to help us create this laboratory where we can learn to cooperate. And this cooperation can transcend the ethnicity in our classes, gender, economic background and geographic diversity. We learn to cooperate; learn to learn from difference," he said, adding, "Learning to cooperate with people who may come from a different background is a skill you need, and it's a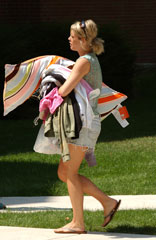 skill society needs."
The first day of college life for the new students also includes student meetings with their faculty advisors, parent information sessions, family goodbyes, and a class kickoff, where the new students join their mentor group for dinner and learn more about orientation. Access a complete schedule by clicking here.
Dr. Bottoms urged the incoming class to take advantage of DePauw's many opportunities -- including the faculty-student ratio of one-to-ten that allows them to get to know their professors and be active participants in class; as well as the more than 100 student organizations the campus offers. In concluding his remarks, the president paraphrased Tom Brokaw, and May's commencement speaker, Eric Schlosser.

[Download Audio: "Becoming the Next Great Generation" - 124kb] "Even with all the problems I have tried to describe briefly -- if you learn the skills of cooperation, if you use your four years here to help develop the character of an honest person, your class could be part of
the next great generation."
Classes begin on Wednesday, August 24. Learn more about the incoming students in this previous story.
A photo gallery from opening day can be accessed here.
Back