Cambridge University Press Publishes Prof. Carl Huffman's Archytas of Tarentum
August 22, 2005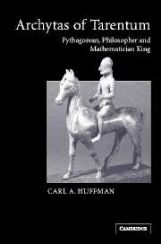 August 22, 2005, Greencastle, Ind. - Archytas of Tarentum: Pythagorean, Philosopher and Mathematician King by Carl A. Huffman, professor of classical studies at DePauw University, is now available. The book is published by Cambridge University Press, which notes, "Archytas of Tarentum was a central figure in fourth-century Greek life and thought and the last great philosopher in the early Pythagorean tradition... This first extensive study of Archytas' work in any language presents a radically new interpretation of his significance for fourth-century Greek thought and his relationship to Plato, as well as a full commentary on all the fragments and testimonia."
Read more about Archytas of Tarentum at the publisher's Web site.
Dr. Huffman, who serves as Edwin L. Minar Professor of Classical Studies and
Robert Stockwell Professor of Greek Languages and Literature, previously authored Philolaus of Croton: Pythagorean and Presocratic, which was also published by Cambridge.
Read another recent story about the professor by clicking here.
Back