DePauw Makes Strong Showing in The Best 361 Colleges: 2006 Edition
August 22, 2005
Also: DePauw in U.S. News' Top Tier for Sixth Year; DePauw Among America's 45 "Best Values"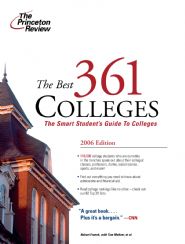 August 22, 2005, Greencastle, Ind. - "All students at DePauw must complete 'a strong liberal education with a challenging, heavy workload' administered by professors who enforce 'an expectation of high academic standards,' " according to the Princeton Review's 2006 guide to The Best 361 Colleges, which arrives at bookstores tomorrow. The book, which includes quotes from students, offers a very positive assessment of DePauw's academic programs, and its rankings place DePauw #1 in the nation for "major frat and sorority scene"; its student-run radio station, WGRE is rated the fourth-best college radio station in the USA; and DePauw is #15 for "more to do on campus". The findings are based on an unscientific, random survey of more than 110,000 students at the nation's top colleges.
"All of the schools in this book are academically outstanding," says Princeton Review's Robert Franek, the book's lead author. "But no school is best for all students. That's why our book has 62 different ranking lists and campus feedback about the schools not reported elsewhere. We hope it will help college applicants and their parents decide which college is best for them."
The text of The Best 361 Colleges, which includes quotes from students, states, "Students tell us that 'classes are small and discussion based. You also get access to the best professors starting your freshman year.' Undergraduates also appreciate how 'DePauw really values technology.'"
The book also notes that DePauw "offers students 'value through a liberal arts experience grounded in reality by generous opportunities to travel, study and/or work abroad as a student.' These opportunities include the highly praised Management Fellows Program, which 'provides liberal arts students the business tools they need for the corporate world." The editors write of the "phenomenal" internship opportunities DePauw students enjoy, asserting, "Undergraduates get to learn hands-on almost from the moment they arrive."
Students also tell the 2006 edition of The Best 361 Colleges that DePauw's "lab
facilities are great." The publication notes that 100% of DePauw's classes are taught by professors and that the University does not utilize teaching assistants. DePauw scores a high 95% in the survey's "professors accessibility rating." It lists DePauw's most popular majors as economics, English composition and communication/media studies.
Eleven new schools are included in the 2006 guide; seven schools were removed from the book this year. DePauw has made perennial appearances in the Best Colleges books over the years.
Visit the Princeton Review's Web site by clicking here. Princeton Review is a New York City-based company known for its test prep courses, education services, and books. It is not affiliated with Princeton University or ETS. DePauw's #1 rating for Greek life is also noted in a story at Yahoo! News.
DePauw's listing in the Princeton Review's new book is the latest in a number of external kudos that the University has received in recent months. U.S. News & World Report has ranked DePauw in the nation's top tier of national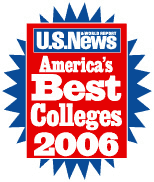 liberal arts colleges for six consecutive years.The just-released Fiske Guide To Colleges 2006 ranks the University as one of 45 "best values," a designation Princeton Review also made in its 2006 edition of America's Best Value Colleges. College Prowler's new guide to DePauw also gives the University high marks. The National Survey of Student Engagement finds that students at DePauw University enjoy significantly more academic challenges, interactions with faculty, collaborations with others and enriching educational experiences than students at peer institutions and the national average at all colleges and universities.
Prospective students who would like more information on DePauw University, including access to an online application form, can click here.
Back