Crimmel Colloquium Will Examine 'Core Values and Core Curricula in the Liberal Arts,' September 1-3
August 23, 2005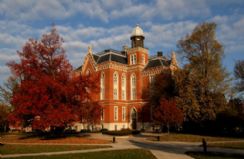 August 23, 2005, Greencastle, Ind. - The Hays and Margaret Crimmel Colloquium on Liberal Education, "Core Values and Core Curricula in the Liberal Arts," will be held on the DePauw University campus September 1-3, 2005. "The event is designed to give the DePauw community an opportunity to discuss the values that are essential to a liberal arts education and how well our set of core requirements reflect those values," notes Kerry Pannell, associate professor of economics and management at DePauw and coordinator of the Crimmel Colloquium.
Four distinguished guests will participate in the program: George Allan, dean emeritus of Dickinson College, philosopher, and author of Rethinking College Education and Higher Education in the Making; John Bean, associate professor of education at Indiana University; Jerry Gaff, senior scholar at the Association of American Colleges and Universities; and Candace Vogler, associate professor of philosophy and co-director of the University of Chicago's master's program in the humanities.
The scheduled events are:
Thursday, September 1

6-9 p.m. - Dinner and Keynote Session, Memorial Student Union Building Ballroom, featuring a speech by Speech by George Allan.

Friday, September 2

8-10 a.m. - Breakfast and Panel Discussion, Memorial Student Union Building, rooms 232-232. "Getting Away from the Corporate Model: What is Essential for a Liberal Arts Education?" Panelists: John Bean, DePauw University President Robert Bottoms, Jerry Gaff, Candace Vogler, and faculty respondent Meryl Altman, associate professor of English and director of women's studies at DePauw.
4-5:30 p.m. - Teaching Roundtable, Memorial Student Union Building, Terrace Rooms A & B. "Integrating Core Values into the Liberal Arts Classroom." Invited guests: John Bean, Jerry Gaff, George Allan, Candace Vogler.

Saturday, September 3

10 a.m.-Noon - Brunch, Panel Discussion and Wrap-up Session, Memorial Student Union Building Ballroom. "Core Curricula that Reflect Liberal Arts Values." Panelists: George Allan, John Bean, and faculty respondent David Worthington, instructor of communication and theatre.
Learn more about the Crimmel Colloquium by clicking here.
Back