DePauw Welcomes Mikhail Gorbachev to Campus for October 27 Ubben Lecture
August 24, 2005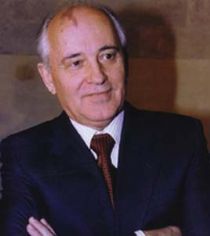 August 24, 2005, Greencastle, Ind. - Mikhail Gorbachev, the former leader of the Soviet Union and the man credited with helping to end the Cold War, will come to the campus of DePauw University Thursday, October 27, to deliver The Timothy and Sharon Ubben Lecture. The recipient of the 1990 Nobel Peace Prize, Gorbachev will speak at 4 p.m. in the Lilly Physical Education and Recreation Center, 702 South College Avenue (click for directions and parking information). Like all Ubben Lectures, Gorbachev's address is free and open to the public (see complete list of past Ubben Lecturers by clicking here).
Mikhail Sergeyevich Gorbachev served as leader of the Soviet Union from 1985-1991. He is world-renowned and admired for streamlining and decentralizing the oppressive system he inherited. In an effort to secure relations with the West, Gorbachev signed two broad disarmament pacts, and ended
Communist rule in Eastern Europe. He taught the world two new words: perestroika (governmental restructuring) and glasnost (political openness).
"By gently pushing open the gates of reform, he unleashed a democratic flood that deluged the Soviet universe and washed away the Cold War," TIME magazine wrote of Gorbachev as it named him one of the 100 most significant people of the 20th Century. In 1990, the same publication named Gorbachev 'Man of the Decade.'
In 1992, Gorbachev became President of the Gorbachev Foundation, known as the International Foundation for Socio-Economic and Political Studies. A non-profit, non-partisan educational foundation, the Gorbachev Foundation articulates and addresses the challenges of the post-Cold War world, through the revisioning of global priorities.
In 1993, Gorbachev founded the environmental organization, Green Cross International. A non-
governmental group with chapters in the United States, Russia, The Netherlands, Japan, and Switzerland, Green Cross International works to clean up military toxins, assist in the creation of global ecological law, and foster a value shift on the environment.
On March 2, 1931, Mikhail Gorbachev was born into a peasant family in the village of Privolnoye near Stavropol. After graduating from Moscow State University with a law degree, Gorbachev joined the Communist Party of the Soviet Union in 1952, and acted as First Secretary for the Stavropol Komsomol City Committee from 1955 to 1958. In 1971, he was elected as a member to the Central Committee, Communist Party (CCCP) of the Soviet Union. From 1978 to 1985, he served as Secretary for the CCCP with the responsibility for areas involving agriculture. Gorbachev also served as Deputy of the Supreme Soviet from 1970 to 1990, and acted as Chairman for the Foreign Affairs Committee of the Soviet Union from 1984 to 1985. From 1985 to 1990, he was President of the Presidium of the Supreme Soviet of the USSR.
Beginning in the mid-1980's, Gorbachev and then-U.S. President Ronald Reagan began a series of meetings that led to an easing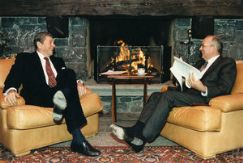 of tensions, and eventually to the Soviet Union's collapse. Upon President Reagan's death last year, Gorbachev remarked, "For me, Ronald Reagan is a great president. I do not know how other officials would have acted in his place at that moment, because the situation was very tense. Reagan, who was considered to be far-right, made steps toward us, and herein lies his credit."
"If not me, who? And if not now, when?," Gorbachev once asked. At the height of the Cold War, as Reagan called upon the United States to build a space-based missile defense system to ward off potential nuclear attacks by the Soviets, Gorbachev stated, "What we need is Star Peace and not Star Wars." He also said, "We can either climb together or fall into the abyss."
As President George H.W. Bush told Gorbachev, "History will be very generous and kind to you, honoring you for
all you did to make our world a more peaceful world for your grandkids and ours. With Glasnost and Perestroika your farsighted vision paved the way for arms reductions, for ending the Cold War, and for bringing to your country a democracy and a market economy that will serve Russia well for years to come. Without your leadership these significant changes that resulted in far better relations between our two countries might not have happened at all."
A prolific writer, Mikhail Gorbachev's books include the bestsellers Gorbachev (co-authored with George Shriver), Chechnya: Life in a War Torn Society (co- authored with Valery Tishkov), and Conversations with Gorbachev: On Perestroika, the Prague Spring.
The Ubben Lecture Series has brought distinguished individuals to the DePauw University campus since 1986, including 2004 presidential candidate and retired General Wesley Clark, former British Prime Ministers
Margaret Thatcher and John Major, Ambassador Paul Bremer, Hotel Rwanda's Paul Rusesabagina, National Football League Most Valuable Player Peyton Manning, General Colin Powell, Ross Perot, Shimon Peres, Spike Lee, Mike Krzyzewski, Harry Belafonte and ice cream entrepreneurs Ben & Jerry. Naomi Wolf (seen at right), feminist and bestselling author, will visit DePauw September 21 to discuss "Hooking Up: Sex, Alcohol and the Death of Romance on College Campuses."
To view a complete list of Ubben Lecturers, which includes links to video clips and news stories, click here.
Back