Texas Newspaper Lists Monon Bell Classic Among College Football's Greatest Rivalries
August 25, 2005

[Download Video: "2004 Monon Memory" 7774KB]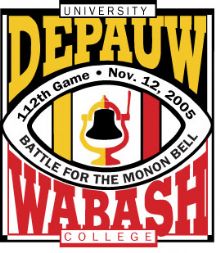 August 25, 2005, Greencastle, Ind. - "At the D-III level, Wabash and DePauw play for the honor of lugging off the 350-pound Monon Bell," notes an article in today's Fort Worth Star-Telegram on college football's greatest rivalries. "Passion. Tradition. Homecoming. Pageantry. Marching bands. Heismans. Polls. Upsets. Legends. Those are some of the words and concepts that, when woven together, form the tapestry of college football," writes Wendell Barnhouse. "But the sport is built on and continues to thrive because of a single word: Rivalry ... in college football, the once-a-season Big Game against that Other Team is the ol' man river flowing across the game's landscape."
Access the column at the Texas newspaper's Web site.
An ESPN online poll recently found the Monon Bell Classic is "Indiana's Best Rivalry." More than 37-thousand votes were tallied in the online survey. The DePauw-Wabash battle won handily with 35% of the tallies.

[Download Video: "See The Ballad of the Monon Bell" 9346KB]

[Download Audio: "Hear The Ballad of the Monon Bell" 2900KB]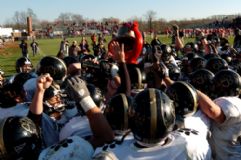 [Download Video: "1955 Monon Memory" 1772KB] The 112th Monon Bell Classic, which will be played November 12 at DePauw's Blackstock Stadium, will again be nationally televised on DirecTV channel 321. Learn more in this previous story.
DVDs of the last four battles for the Bell are available. Read more here, and access DePauw's Monon Bell Web page by clicking here. Learn about this year's telecast parties at DePauw's alumni page.
Back