Singer-Songwriter Ann McWilliams '92 is Profiled
August 26, 2005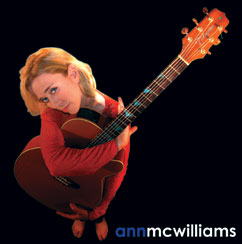 August 26, 2005, Greencastle, Ind. - "Ann McWilliams loves music so much that she was classically trained as a pianist and French horn player at DePauw University -- until she bought a Fender acoustic guitar for her 20th birthday and soon quit orchestra to join a band," begins a story in Indiana's
Columbus Dispatch
. McWilliams, a 1992 DePauw graduate, says, "I think you come to your real instrument like being thirsty for water. I just wanted to play guitar. I was thirsty for it."
Brian Blair writes, "Plenty of listeners believe -- and they believe the singer-songwriter is one of Indianapolis'
best, which they've named her each of the past five years. Some compare her voice to Chrissie Hynde and Mary Chapin Carpenter."
McWilliams has released three compact discs, the latest being Wrapped Around It. "Her voice also is a staple on Bloomington's WTTS Radio, where she has hosted a nationally syndicated show, The City of Music Radio Hour since 1999. It spotlights the best of new music worldwide."
Read the complete article at the newspaper's Web site. Visit Ann McWilliams' Web site here.

Back