Old Gold Weekend is October 27-29
September 18, 2005
Old Gold Weekend Schedule and Details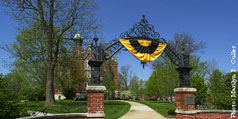 September 18, 2005, Greencastle, Ind. - You're invited to enjoy a fall weekend in Greencastle with fellowship, friends and football, October 27-29, Old Gold Weekend at DePauw University. DePauw's homecoming, Old Gold Weekend is a celebration of alumni achievement.
The festivities begin at 4 p.m. Thursday, October 27, with The Timothy and Sharon Ubben Lecture by Mikhail Gorbachev. The speech by the former leader of the Soviet Union and Nobel Peace Prize recipient is free and open to all.
More details are available in this previous story.
On Friday night at 6 p.m. at Walden Inn, the Distinguished Alumni Achievement Awards Reception and Banquet will take place. Barbara E. Smith '62 (photo at right) will receive the Old Gold Goblet, and Rebecca L. Relic '89 will receive the Young Alumni Award. In addition, five alumnae/ni will receive Distinguished Alumni Achievement Awards:
Distinguished Alumni Achievement Award for Citizenship and Voluntary Service: Dennis E. Bland '87
Distinguished Alumni Achievement Award for Creative and Performing Arts: Gretchen Kiger Cryer '57 and Nancy Ford Charles '57
Distinguished Alumni Achievement Award for Management and Entrepreneurship: Luis R. Davila '81
Distinguished Alumni Achievement Award for: Media David Moessinger '52
Distinguished Alumni Achievement Award for Professional Achievement: John L. Rabb '66
Other weekend highlights will include the dedication of the newly renovated and expanded William Weston Clarke Emison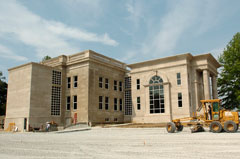 Museum of Art on Saturday morning, with a celebration luncheon to follow.
Join fellow alumni at Blackstock Stadium Saturday afternoon to cheer the DePauw Tigers in their game vs. Centre College. Tiger Pep Band alumni, including alumni of the DePauw Marching Band, Concert Band and DePauw "StumbleBums," are invited to join the current collegiate members for a performance during the football game. To sign up, send an e-mail here or visit the Pep Band's Web site.
The weekend will conclude with the Athletic Hall of Fame Reception and Banquet, beginning at 6:30 p.m. at Walden Inn. The following former DePauw athletes will be inducted into the Athletic Hall of Fame:
Richard J. Bonaccorsi '85 - football
Judith A. George, coach - field hockey
Dr. Bruce P. Grossnickle '74 - golf
Robert F. Kyle '78 - baseball
Edward H. Meyer Jr. '62 - baseball and football
Kenneth A. Wieland Jr. '82 - swimming
For more information about Old Gold Weekend 2005, click here, call toll-free (877) 658-2586,or send an e-mail here.
Back