Composer David Cope and Pianist Mary Jane Cope to Present Lectures at DePauw
September 2, 2005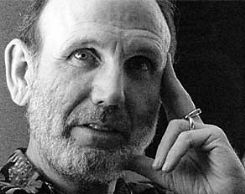 September 2, 2005, Greencastle, Ind. - Composer David Cope and his wife, pianist Mary Jane Cope, will visit DePauw University September 7-8, 2005. Their stay on the Greencastle campus, which is supported by the Gilbert S. Lance Fund, will include classroom visits to the School of Music and the computer science department as well as two presentations: one by David Cope on his compositions, while Mary Jane Cope will discuss performance anxiety. Both convocations are free and open to all.
The Cope's son, Tim, is assistant professor of geosciences at DePauw.
"David Cope will be the first of several composers who will visit the campus this year," says Amy Lynn Barber, dean of the School of Music. "It is so important for our students to have the opportunity to meet and work with living composers and to know the music that is being created in our own lifetimes. So much of the music we study and perform is from the past and it is crucial to understand that music is a living, dynamic, creative art form."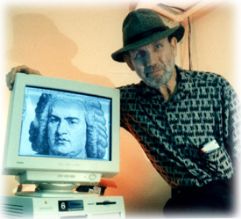 A professor of music at the University of California at Santa Cruz, David Cope is a distinguished composer and writer about contemporary music. Cope is noted for the wide diversity of his works, which range from large ensembles to soloists with electronic and computer-generated tape. Holding degrees in composition at Arizona State University and the University of Southern California, Cope's musical catalogue includes over seventy published compositions, which have received thousands of performances throughout the United States and abroad. Many of these pieces are also available on recordings, with complete albums of Cope's music appearing on the Folkways, Opus One and Discant record labels.
One of Cope's most notable achievements is Experiments in Musical Intelligence, which he began in 1981 while fighting writer's block. "My initial idea involved creating a computer program which would have a sense of my overall musical style," says Cope of the endeavor. "Having very little information about my style, however, I began creating computer programs which composed complete works in the styles of various classical composers, about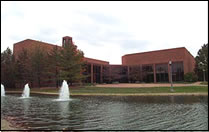 which I felt I knew something more concrete." Cope later laid out the basic rules and some of the result of this process in his 1996 book of the same name. On Thursday, September 8 at DePauw, Cope will deliver a convocation entitled "Experiments in Musical Intelligence," which will take place at 1 p.m. in Thompson Recital Hall of the Performing Arts Center.
"David Cope is unquestionably one of this generation's most ambitious, prolific and multifarious composers," wrote Steven Mamula in the American Record Guide. "His music in a large measure is marked by tension, achieved through sharply dissonant, sustained tonal clusters, sporadic and impulsive phrasing, and wide skips in the linear movement. His textures are transparent, though not always sparse, and rhythms seem to fall at extremes: either subtle and almost not pulsating, or fiercely aggressive with frequent juxtapositions of both."
Mary Jane Cope has been a member of the piano faculty
of the University of California, Santa Cruz since 1977. Frequent musical collaborators, Mrs. Cope has premiered several of her husband's works and is an accomplished pianist. Recorded on the Opus One and Centaur Records labels, her areas of teaching expertise extend to the realms of injury-prevention and the development of a healthy piano technique. Her presentation on Wednesday, September 7 at 2:30 p.m. in Thompson Recital Hall will focus on strategies for dealing with performance anxiety.
Visit the DePauw School of Music online by clicking here.
Back