Smaller Music Schools Like DePauw Can Be "Gems," Prof. Caroline Smith Writes in Classical Singer
September 2, 2005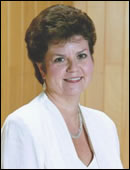 September 2, 2005, Greencastle, Ind. - "Do you want to be known for the individual you are, not as a mere number in large-class settings?," asks Carolyn Bradley Smith, professor and vocal area coordinator in the DePauw University School of Music, in the September 2005 issue of Classical Singer magazine. Her article, "Small Schools - Undiscovered Gems," continues: "Do you want all of your classes and applied lessons to be taught by professors, not by graduate assistants? Do you want to have performance opportunities -- including operatic roles and choral solos -- during your undergraduate tenure, rather than have those opportunities go only to graduate students? Do you want to explore other areas in addition to music without being relegated to 'second-class citizen' status?"
The professor continues, "If your answer to any of these questions is yes, then perhaps you should consider a music program at a smaller university or college that specializes in undergraduate education... If you are a student who thrives in a close-knit environment where personal attention is paramount, you owe it to yourself to investigate these possibilities."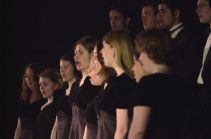 Smith makes a case for DePauw, noting the many opportunities music students have to learn and perform, adding, "because DePauw is a top-tier liberal arts college, you can be assured that the liberal arts courses are challenging and will further enhance your education."
The article appears on page 65 of the magazine (a photo of DePauw students performing Orpheus in the Underworld is on page 48). Professor Smith's essay is also available online to subscribers of Classical Singer by clicking here.
Source: Classical Singer
Back