Have a Question or Gripe for Congress? Former US Representative Lee Hamilton '52 Offers Advice
September 5, 2005
September 5, 2005, Greencastle, Ind. - "Have you tried to get in touch with your member of Congress recently?," asks Lee Hamilton, who served more than three decades in the U.S. House of Representatives and was vice-chair of the 9/11 Commission. "It's not easy," the 1952 DePauw University graduate adds in an op-ed column.
"The traditional way is to sit down and write a letter. But ever since the September 11 terrorist attacks and the anthrax scare that followed, every letter to the Capitol gets screened, so by the time it's delivered not only is it late, it's often damaged," Hamilton writes. Faxing? Good luck, as "Congressional fax machines churn around the clock as organized interest groups spread their word. You might try email, but your odds of getting noticed are even smaller than with a fax." Hamilton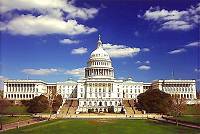 notes that travel to Washington is expensive and odds are slim that a lawmaker will have time for a face-to-face meeting.
Given those points, "You might just be tempted to give up. Especially if you've been reading the papers, where you've seen that lobbyists and big-time contributors shower the legislators they're hoping to influence with campaign contributions, golfing trips, and tickets to the theater or major sporting events." But Hamilton, who is director of the Center on Congress at Indiana University, says there is a way to get your point across: "Call your representative's office and invite him to meet with you and a few of your friends for coffee somewhere in the district. Be persistent... You probably think I'm nuts, that no high-and-mighty member of Congress is going to bother with anyone who isn't writing a big campaign check or lobbying for a well-heeled interest group. The truth is, though, in all my years in Congress I never knew a colleague who wouldn't sit down with a constituent."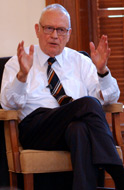 Hamilton concludes, "Our form of democracy depends on our elected representatives knowing what we think. Not only does it help them actually represent us, but also it ensures that the thoughts and interests of ordinary constituents can compete with those of the big-spending Washington lobbying industry. If you've got something to say, pick up the phone and give it a try. You might be surprised at how easy -- and effective -- it is."
Access the complete text at Connecticut's Newton Bee.
Lee Hamilton is co-chairing the new Partnership for a Secure America. Read more in this previous story.
Back