Naumburg Vocal Competition Winner Thomas Meglioranza Performs at DePauw September 13
September 6, 2005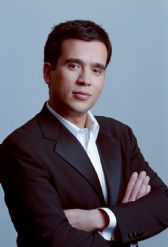 September 6, 2005, Greencastle, Ind. - Thomas Meglioranza, winner of the prestigious 2005 Walter W. Naumburg International Vocal Competition, will perform a recital at DePauw University on Tuesday, September 13. The event, which is free and open to the public, will begin at 7:30 p.m. in Thompson Recital Hall and marks the start of DePauw's Performing Arts Series. Works by Franz Schubert, Claude Debussy, Stephen Foster and more are scheduled for this highly anticipated evening program.
Hailed by the Boston Globe for his "vocal distinction and expressive warmth," Thomas Meglioranza has quickly established himself as one of the country's most sought-after singers. Possessing a remarkable versatility that ranges from Monteverdi to Schubert to Milton Babbitt to Cole Porter, the baritone is also the winner of the 2003 Franz Schubert and Music of Modernity International Competition as well as the 2002 Concert Artist Guild International Competition.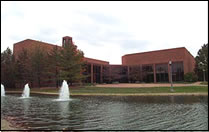 Meglioranza's 2004-2005 season featured a performance of Jesus in Bach's St. Matthew Passion with Andrew Parrott and the New York Collegium that was "warmly and beautifully" sung, according to the New York Times. The year also marked the baritone's Kennedy Center debut, singing Copland's Old American Songs with Murry Sidlin and the National Symphony.
A graduate of Grinnell College and the Eastman School of Music, Thomas
Meglioranza's upcoming recital marks his first at DePauw. Joining him on this event will be pianist Reiko Uchida, a Los Angeles native. An accomplished musician in her own right, Ms. Uchida is a First Prize winner of the Joanna Hodges Piano Competition and Zinetti International Competition.
In addition to Mr. Meglioranza's recital, the DePauw Performing Arts Series will also present concerts by Sarah Lee Guthrie and Johnny Irion on September 19 and 20, a performance of Shakespeare's Twelfth Night by the Actors from the London Stage on October 11, and a performance by the Philadelphia-based Koresh Dance Company on November 29 as a part of its fall lineup.
For more information on DePauw's Performing Arts Series, click here or call (765) 658-4827.
Back