DePauw Faculty-Student Geoscience Research to be Highlighted at National Conference
September 10, 2005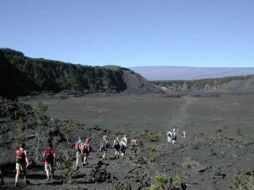 September 10, 2005, Greencastle, Ind. - The research of two DePauw University faculty members and four students will be highlighted at the 117th annual meeting of the Geological Society of America. The meeting will be held October 16-19 at the Salt Palace Convention Center in Salt Lake City, Utah. Approximately 6,200 geoscientists are expected to attend. Among the presentations they will hear will be two by DePauw professors and one by a student.
Steven B. McArthur, a DePauw junior, will present his project, "Flood-Dominated Recharge of a Glaciofluvial Aquifer: Big Walnut Creek, Greencastle, Indiana," which he conducted with James G. Mills Jr., associate professor of geosciences, and Erik Melchiorre, a former DePauw professor who is now assistant professor of geology at Calfornia State University.
Dr. Mills will present "Late Grenville Metamorphic and Shoshonite-Related Calcite-Apatite Vein Formation Near Essonville and Lake Clear, Ontario, Canada. Analogues for Large-Scale Calcite-Apatite Vein-Dyke Formation in the Bancroft Terrane of the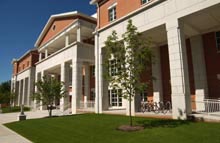 Grenville Province?" Mills conducted the research with Melchiorre and Christopher R. Myrvold, a DePauw senior, and sophomore Samuel S. Rund.
Tim Cope, assistant professor of geosciences, will also speak to the conference on his project, "Mid-Cretaceous Extension Superimposed Upon the Jurassic-Cretaceous Yanshan Fold-Thrust Belt, Northeast China."
Finally, Professor Mills will be co-presenter on "Insights Into the Shallow Emplacement of a Mafic Dike System, Fortification Hill, Northwestern Arizona," with Jeffrey Templeton, associate professor of geology and earth science at Western Oregon University.
Learn more about the event by clicking here. Visit DePauw's geosciences department online here.
Back