Sarah Lee Guthrie and Johnny Irion to Perform Two Free Concerts at DePauw, September 19 & 20
September 8, 2005
September 8, 2005, Greencastle, Ind. - The critically-acclaimed duo of Sarah Lee Guthrie and Johnny Irion will visit the campus of DePauw University for two performances, September 19 & 20. Presented by DePauw's Performing Arts Series, the concerts are free and open to all.
Sarah Lee Guthrie is the daughter of singer Arlo Guthrie and the granddaughter of Woody Guthrie. Monday evening, September 19 at 7 p.m., Guthrie and Irion will present an all-ages concert featuring the songs of Woody Guthrie. The event will take place in Thompson Recital Hall of DePauw's Performing Arts Center.
At 7:30 p.m. the following evening, September 20, the duo will perform an outdoor concert in Bowman Park.
As Glide magazine wrote, "While Arlo and Woody staked their claim in the rich soil of folk music, the young belle and Irion turn into the dry, dusty expanse of alt-country, adding wafting melodies textured with vibrant pedal steel that is only penetrated by bouts with gritty guitar."
A new compact disc by Guthrie and Irion (who are husband-and-wife), Exploration, was released earlier this year. It includes 11 original compositions plus a previously unrecorded Pete Seeger song. Irion wrote six of Exploration's songs, three are co-written by the duo and two are solely written by Guthrie. Exploration was produced by Gary Louris (of the Jayhawks) and Ed Ackerson.
"The celebrated Guthrie musical legacy appears to be in capable hands," wrote Mike Thomas in Acoustic Guitar. "This duo debut from Arlo's daughter/Woody's granddaughter and her singer-songwriter husband carries the family folk-music torch into rock and country territory with style and spirit to spare." The
Independent Weekly of Durham, North Carolina noted that Exploration features "two voices dancing with and around each other while revealing the comfort, passion and playfulness that comes from signing on to sing together for life. Put it this way: If charm equaled record sales, Exploration would have shipped platinum."
Sarah Lee Guthrie was two years old when she made her singing debut as part of a children's chorus on Arlo's 1981 album, Power of Love, but she had little subsequent interest in making music herself, although she was surrounded by it. "I think it was in me," she says, "but I wasn't ready for it." After graduating from high school in 1997, Sarah Lee agreed to tour-manage her father, who was emceeing the Further Festival, on which members of the Grateful Dead were joined by the Black Crowes. She got on so well with the Crowes and Chris Robinson that, when the tour ended, she made what proved to be a life-altering decision: "I knew all these cool rock & roll guys, so I decided to move to L.A."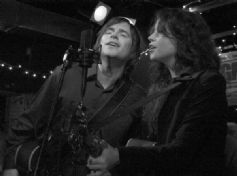 Irion came out of the vibrant Carolina indie-rock scene of the early '90s, first as a member of Queen Sarah Saturday and later with Dillon Fence. He, too, got friendly with Robinson while Dillon Fence was on the road with the Crowes. Robinson convinced Irion to come out to L.A. and join Freight Train, a band he was producing. That was in the fall of 1997, just after Sarah Lee arrived in town. Whether by serendipity or cosmic intervention, the two were on a collision course; they met at an L.A. club and began dating a week later. They married in 1999. Since setting out on the road together in 2001, they've averaged 180 shows a year.
Visit the duo's official Web site here.
Back