DePauw Reaches Out to Students, Faculty Members and Others Displaced by Hurricane Katrina
September 7, 2005
Learn More About DePauw's Katrina Relief Efforts
September 7, 2005, Greencastle, Ind. - DePauw University is reaching out to students and faculty members of colleges and universities devastated by Hurricane Katrina, and may become a temporary home for displaced families. DePauw is offering to accept students whose college studies have been disrupted by the storm and provide workspace for displaced professors. It is also offering, through the Red Cross and NAACP, two vacant living spaces to families who are fleeing the Gulf Coast and need short-to-intermediate term housing.

[Download Audio: "Exemplar" - 21kb] "DePauw is an exemplar among liberal arts colleges of engagement with the community," says Neal B. Abraham, executive vice president of the University. "Engagement in community needs is something that DePauw has always done," adds Dr. Abraham, who is also vice president for academic affairs and dean of the faculty."A commitment to dealing with those in need well beyond the Greencastle community is also something that DePauw has done routinely. So reaching out to families and friends and those simply in need in the hurricane devastated areas is an important part of DePauw linking the liberal arts to the community's needs."
DePauw has already been in contact with several students whose colleges have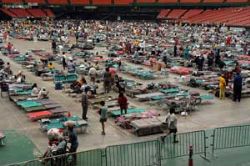 been closed by the disaster, who had interest in spending the semester studying in Greencastle, Abraham says. Those students found other alternatives, but the University stands ready to greet others.

[Download Audio: "Finding A Fit" - 52kb] "There are obviously difficulties with the semester already started and with students wanting particular courses, but we will do everything we can to help students who find a fit between our offerings and their needs" enroll at DePauw, Abraham asserts. (at right: Astrodome photo by Daniel Cima/American Red Cross)
DePauw is also examining

[Download Audio: "Hosting Displaced Faculty Members" - 47kb] "the possibility of hosting faculty colleagues who need places to work." Abraham says the visitors "might come here to teach part-time or simply have offices where they can recover their notes and prepare for their classes for when their institutions reopen."
In fact, one "guest scholar" is already on campus. Joseph F. Wayand (seen at left), who was an assistant
professor of psychology at DePauw and left to teach at Loyola University of New Orleans -- which has been closed by Katrina -- is back in Greencastle, working out of a psychology laboratory. Wayand has Internet connections and access to DePauw's library,

[Download Audio: "Professor Wayand" - 47kb] "and perhaps we'll hire him to do some part-time teaching in the spring," Dean Abraham says.
Finally, the University has let the American Red Cross and NAACP know that two living spaces -- usually occupied by visiting professors but vacant for the time being -- are available to individuals or families who are fleeing the Gulf Coast and are in need of housing. Learn more about the University's efforts here.
The University recently donated a building on the south end of campus that now serves as a community and youth center. In the past few years, DePauw has contributed significant funds toward the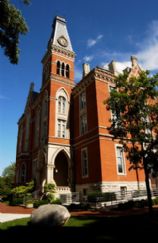 purchase of a new pumper truck for the fire department, a thermal-imaging camera, and a "safe house" where area schoolchildren learn first hand what can happen during a fire and how they should react.
An estimated 75% of DePauw students participate in community service projects. An economic impact study released this summer found that students, faculty and staff of DePauw combined to provide 87,750 hours of volunteer community service work to their Greencastle and Putnam County neighbors in 2003-04.
The DePauw community has been busy raising funds for victims of Katrina. Read more in this previous story.
For more information on relief efforts, visit the Red Cross and/or the Federal Emergency Management Agency.
Back